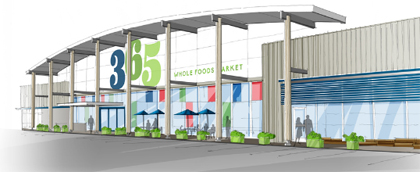 Algorithms: 1. Humans: 0.
So it will be in the wine aisle when the new 365 store by Whole Foods opens in two weeks. The store aims to target millennials by delivering foods in the Whole Foods ethos but with out the Whole Foods price tag (insert your own Whole Paycheck comment here). There will be fewer products in the stores and fewer employees. In an article in today's NYT business section, the author compares the new 365 stores to Old Navy with Whole Foods being the Gap. No word on what that means for the wine section, but I'd bet on lower-priced offerings in a variety of formats.
The first 365 store will be opening in Silver Lake, ground zero for hipsters in LA (Moby has a vegetarian restaurant there). Hilariously, some Silver Lake residents had been hoping their neighborhood would be served by a "regular" Whole Foods and at some even mounted an online protest derisively calling the forthcoming 365 store "Half Foods."
The NYT story provides more details on the store and its robots. There will be a tea-dispensing robot. But more to our purposes, the staff that linger in the wine aisle in Whole Foods that sell wine will be 86'd. In their place will be iPads.
The iPads will run an app developed specifically for 365 stores by the engineers and designers of Banquet and Delectable. Here's how spokesperson Julia Weinberg put it in an email:
What we built for Whole Food's new 365 stores draws upon the Banquet foundation, but is actually an independent product we are launching with them. It is an iPad-based in-store guide that is a hybrid of Banquet and Delectable. For their new 365 concept stores, Whole Foods approached us to help reinvent the way store guests experience and navigate the beer, wine and spirits section. The genesis of the project was the goal to find a better solution to the antiquated retail hang-tag model.
Since Banquet and Delectable have the ability to purchase wines from various retailers, that feature will not appear on the new 365 iPads, which will favor navigating the in-store inventory. Customers will also be able to scan any wine and info from the Delectable database will appear, including user reviews.
While the human touch is always nice for consumers, this approach actually sounds promising. I like Delectable, so the 365 team made an astute selection. The hardest thing may be actually getting the consumer to engage with the iPads instead of just judging wines by the label art, a common supermarket shopping strategy. Now all the store needs is a machine to spit out wine samples and the wine aisle will be the most happening spot in the store.