In my wine classes, people often ask me, "What's the best wine app?" I've been using wine apps since the early days of the app store and have generally found that they try to do too much ("a million logically possible food-wine pairings") or too little (only offer limited price comparisons). But now when I am asked, I have an answer: Delectable.
The main feature that makes Delectable the standout wine app is its incredible optical recognition. Out to dinner and enjoying a wine? You could simply snap a picture to remember, always a good a idea. But if you take that picture with the Delectable app, it will upload it to their servers, have all their minions pore over it, and then actually fill in all the relevant data. I tried beat the app with a few dimly-lit, hard-to-read labels or obscure micro-production wines and it nailed them all. (Some users have reported that it does have trouble Hellenic wines–apparently, it's all Greek to them.) The only downside was that it could take a while to recognize the label–ten minutes in one case–but, as I say, I couldn't stump it. The relevant information about the wine is loaded and the user can rate the wine on a sliding scale ranging from frowny face to smiley face. Using it over a longer period of time not only gives you a log of which wines you've had, but also which grape varieties and regions, which is a terrific way of subtly encouraging you to try more of each.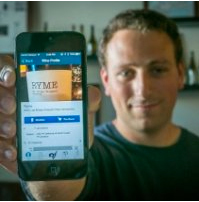 The force behind the company is Alex Fishman, who graduated from Carnegie-Mellon in 2006 and later joined Palantir, the Silicon Valley company, now valued at $9 billion, that does a lot of work for the NSA and the CIA in counterterrorism (here's a backgrounder in Forbes). Fishman told me over coffee in New York recently that after he had been at Palantir a few years, CEO Alex Karp supported him to pursue his own startup. Fishman said he had always been into food but found wine daunting.
"If you have a mission-driven approach to creating a company, you can do incredible things, such as fight terrorism," Fishman said. "Our mission at Delectable is to make the world a more delicious place."
Moreover, it had to be easy (it doesn't involve typing), mobile (it's only on smartphones) and intuitive (the smiley-face ratings).
Fishman underscores Delectable's contribution: "Nobody really had a data set of every SKU and nobody had it on mobile. Ours is the most complete dataset right now." Comparing the database structure to Cellartracker, he says that the Cellartracker database has a limited number of fields whereas his database structure could have infinite fields for tagging and coding wines.
Fishman is at his most animated when speaking of Delectable's "social graph," a fine-grained look at wine: not only where it is produced but where it is consumed and which users are the key influencers. He's thrilled with the community aspect of the free app, which has been downloaded 2.1 million times. "We know what's trending, we know which regions are hot," he said. The most popular regions for Delectable users are California, Champagne and Burgundy, he said, which offers a perspective on the active user base.
"Everyone wants to discover new wines. Wine nerds want to engage with each other. Regular folks want to get ideas," he said pointing to various leading sommeliers and California winemakers who use the app.
Fishman sees this community aspect as giving a firmer commercial footing to small wineries. "Wine has been incredibly undemocratic," he said referring to the once-dominant role of critics. "We had to make it democratic or traditional winemaking will die." Delectable has partnered with a couple of dozen retailers from around the country that it deems among the best, such as K&L and Crush Wine and Spirits. The app now offers an option to purchase a wine via this network once a user uploads an image of it. He says they receive most clicks to purchase on the weekends and, thanks to geolocation, they know that many of those users are ordering while out to dinner at restaurants.
Will data be used for good or evil? Fishman told me, "We aim for good. Our data won't be used for focus groups and the trade."
In my use of the app, I have found the community aspect the most underwhelming. Posting the same photos on Instagram and Delectable, I got many more "likes" on Instagram–but I have more followers there too. Fishman aims to change that by making Delectable "THE wine community" within a year. He also aims to hire more engineers and speed up the optical recognition; hopefully, a cellar management component will be added. With their access to capital and connections in Silicon Valley, this is definitely a company to watch.