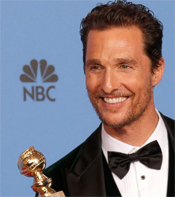 Wine may well be splashing on the silver screen with Matthew McConaughey in a starring role. Deadline reports that the star of Dallas Buyers Club and True Detective will headline the cinematic adaptation of the Billionaire's Vinegar.
I'm glad the project is moving ahead. It's based on the terrific book of the same name by Benjamin Wallace. Will Smith had reportedly picked up the rights to the project back in 2008; when I called Escape Artists Entertainment in 2012 for an update, I was told that there's "No director. No talent. No new news." Clearly the project has gained newfound momentum.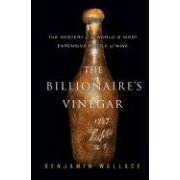 Will Smith he's now joined in the producer's role by Todd Black, James Lassiter, Jason Blumenthal, and Steve Tisch. The screenplay will be written by Michael Brandt and Derek Haas, who teamed up before on 3:10 to Yuma and Chicago Fire.
It's not clear which role will be for McConaughey. Back in 2008, we had our own speculation on casting for the film. McConaughey didn't come up, but you couldn't ask for a hotter actor today. He could be the deceitful Rodenstock character or he could be the billionaire sheriff. Whatever it is, let's just hope he's done driving around in a Lincoln rolling buggers.
A second movie was optioned based on a New Yorker article about the Jefferson bottles. And Level 1 Entertainment optioned "A Vintage Crime" about the more recent and also excellent story revolving around Rudy Kurniawan though according to IMDB that project has now shifted to become a documentary rather than a cinematic drama.