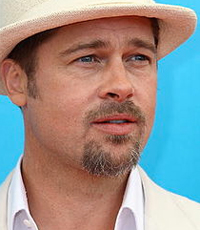 On May 3, the British blog bordeaux-undiscovered.co.uk published an entry stating that Brad Pitt was to star in the movie version of The Billionaire's Vinegar. On May 4, thedrinksbusiness.com picked up the story, citing no sources, adding that David Koepp is directing and the movie is set to be released this fall. On May 8, Decanter.com, rehashed the same details, citing no source. From there, it was off to the races, retweeted and picked up by wine sites from Canada to India as well as Brad Pitt fan sites and even Robert Parker.
Sorry to burst everyone's bubble but Brad Pitt is not going to star in the movie. And the movie is nowhere close to coming out this year.
I called David Bloomfield of Escape Artists Entertainment at his office in LA. Bloomfield is the executive producer of the film. I asked if the Brad Pitt item was true.
"It's literally someone in the blogosphere picking up something that was published two years ago," he said referring to the nytimes.com page that was the source of the original blog post.
And David Koepp as director? Nope. Bloomfield said, that there's "No director. No talent. No new news."
He added that the project is still officially in development and that it is "not dead." But there's nothing to report. "I hope there will be soon."