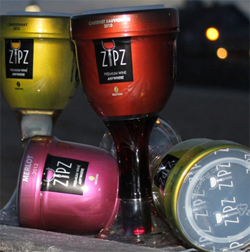 The sharks love them some wine. Especially Kevin O'Leary.
The self-proclaimed "Mr. Wonderful" on the ABC show "Shark Tank" reached an agreement to invest $2.5 million in the single-serve wine company called Zipz. That gave Zipz the $25 million they were seeking.
Making the presentation for Zipz was Andrew McMurray. McMurray is more known in the wine world as
the sender of email offers from Zachys, the wine store in Scarsdale, NY, where he is a co-owner with his wife, Jen, and her brother, Jeff. McMurray told the sharks that he had been working on the single-serve wine since 2008.
The packaging has a twist-off top with wrapping that protects against UV light. It is sturdy–McMurray stood on it without it breaking.
The sharks debated whether the company should license the technology to big wineries to package their wine. McMurray mentioned fleetingly something about YellowTail and said they had an agreement with Fetzer. Robert Herjavec advocated licensing. Mark Cuban said he hated the name and bowed out. Kevin liked the product as-is but insisted it was way overpriced at $3 a glass/serving. He prevailed over the others saying that he could get the Zipz branded wine into Costco but only if they would agree to sell it at $1.49 retail. And for that he would pay $2.5 million for 10% equity but he wanted the chance to do the same deal again at any point in the future, basically buying himself a one-way bet if the brand takes off, presumably because he got them into Costco. McMurray made a call. He took the offer.
J Henry Scott–the person McMurray called–is credited with coming up with the idea on the Zipz wine website and is listed as the CEO. Pat Scire is listed as "one of the foremost wine collectors in the country" with 17,000 bottles and as president of Zipz. Scire was the Global Head of REDI Products at Goldman Sachs from 2000 to 2006. McMurray said on the show that six out of eight of the Zipz investors are or were at Goldman Sachs. Three of the investors own professional sports teams.
Mark Cuban invested $1 million in a box wine on a previous episode this season.
Even though it's easy to dismiss these single-serve wines–the oxygen transmission! the wine! the horror!–I did a post on an entrepreneur who got laughed off the BBC show the Dragon's Den and then went on to have success at Marks & Spencer with a single-serve wine. That post on my site got a lot of traffic and people kept writing me asking me where to find it in the US.
See the Zipz SEC filings here.