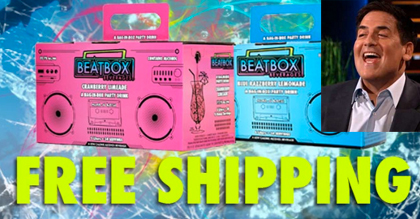 Box wine made an appearance on ABC's Shark Tank last Friday. And like blood in the water, this startup had the sharks in a feeding frenzy with all five sharks bidding (or trying to bid).
Before wine enthusiasts get too excited, it's worth noting that the beverage is more wine-arita than winery. Let's break it down. Called Beatbox wines, it comes in a box styled as a beatbox. Nice! Two 5-liter boxes sell on their site for $64.99, which comes out to the equivalent of about $5 a bottle. So they've got the value pricing covered. And now, the content: this "wine-based" beverage with 11.1% alcohol comes in several flavors including Blue Razzberry Lemonade and Cranberry Limeade. Oh, and these serving instrux: "Try BeatBox on its own, with a mixer, in a cocktail, or as frozen BeatBoxicles!"
Billionaire Mark Cuban put it best on the show: "You're not selling wine. You're selling fun."
Kevin O'Leary tasted it and proclaimed, "This tastes like S**t!" And then he bid on a slice of the company.
But it was Cuban who came out ahead, giving the Austin-based entrepreneurs five times the amount of money they were seeking for a third of the company's equity–at a 50% higher valuation than they were seeking.
Given the myriad laws governing wine retail and distributing, here's hoping that BeatBox doesn't give Mark Cuban a $1 million hangover.
See the whole episode on Hulu Plus or read a blow-by-blow over on BI.