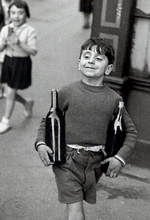 A committee in the French Senate declared the obvious this week in adding an amendment that would make wine an official part of French heritage.
Cries of "um, duh!" could be heard in the land that makes some of the best wines in the world today and up until fifty years ago had a per capita consumption of 100 liters per person.
That it has come to this underscores the threats the wine industry faces abroad but particularly at home. Overseas, French wine has lost market share in the US to new world producers (although, at the high end, the mindshare remains huge). But at home, wine has come under threat from advertising restrictions, tougher laws against drunken driving, an ascendent force that sees wine/alcohol as a public health problem, a proposal to raise the tax on wine 1,000%, and truly nutty proposals to bar media discussion of health benefits of wine and a ban on talking about wine on the internet! So, in light of these domestic developments, such a declaration by the senate becomes more understandable as it gives the wine industry to something they can use to bolster their position.
We wish them bonne chance. But perhaps the best thing we could do for them is take a sip of the heritage and say santé! (Or, wait, is it not healthy…?)