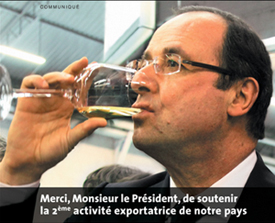 WINE KILLS.
This is what a wine trade group in France foresees on wine labels. Did you miss which country this is? FRANCE. You know, the country that might as well be the first child of Bacchus, a land that's been growing vines since the Gauls were in charge, where kids in black and white photos carry flagons of wine and baguettes.
Earlier this year, we discussed the upbeat report entitled "Damage related to addictions and strategies for reducing the damage." Among other things it recommended banning writing about wine on the internet. It doesn't even take 140 characters to point out that this is both dunderheaded and unenforceable. According to a piece on La Revue de Vin de France, efforts to limit discussion and promotion of wine in France are growing and may come to a head later this year as an update to the 1991 Evin Law.
A trade group representing wine and spirits professionals in France just went live at www.cequivavraimentsaoulerlesfrancais.fr. Let's hope they can harness the power of the internet to oppose the new possible measures on taxation, labeling and criticism — before prohibitions about discussing wine online are enacted.