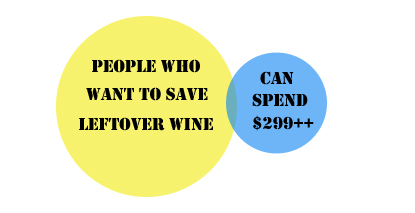 Coravin, a new wine preservation system, has garnered a lot of praise since its soft launch in June with the latest big piece coming from Eric Asimov in the NYT. The device uses a syringe to pierce the cork, withdraw wine, and replace the liquid with argon gas. Argon, for those who haven't been keeping up with gasses since Chemistry class, is heavier than oxygen so it forms an invisible blanket to preserve the wine from the corrosive effects of oxygen.
Coravin seems to have an audience problem as I depict above in a Venn diagram (Coravenn?). There are a lot of people who think 750ml is too much wine to drink all at one time. But these are not the people likely to plop down $299 + tax + capsules. So, in this regard, Asimov is right to focus attention on Coravin to its impact in wine bars and restaurants. Is this audience big enough to recoup their latest, $11.5 million round of venture capital? Perhaps.
Asimov didn't address the reservations that some collectors have about bottles that have been "accessed" by the device's needle. David Beckwith of Grand Cru Wine Consulting touched on some issus in a thread on his facebook page, getting the ball rolling with this:
Coravin system: am I the only one who's totally freaked out about this thing? If one can easily take wine out of a bottle why can't they put something else back inside with Coravin or something else?
He added that auction catalogs may have to come with some new annotation for bottles that had been "accessed" by the device.
Others chimed in with similar concerns. Keith Levenberg said the idea of wanting to extract a glass of wine yet have the wine continue its normal aging process for years afterward seemed, "well, kind of greedy."
Francois Audouze, a collector, called the mere thought of the device "terrifying." Another collector told me that he didn't think most 25-year-old corks had the structural integrity to support the intrusion of a needle. A winemaker wrote via email that he thinks even a minuscule needle hole in the cork is "dangerous," adding "argon dos not protect forever."
The device does seem a little surgical, and surgery is not usually associated with good times, the way wine is. So, aside from the restaurant setting where I can see the utility, I say that the dilemma of what to do with leftover wine is best avoided in its entirety: call some friends over, pull some corks right out of the bottle, and let the good times roll.
What are your experiences with the device or general reactions to it?