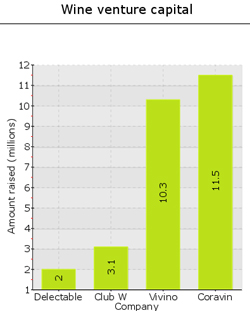 There has been a spate of articles about a new gadget for preserving wine called the Coravin. What's not been widely commented on is the fact that the founders raised a lot of money, notably almost $11.5 million in the last round.
The company, based in Burlington, Massachusetts, raised these funds from 106 equity investors, including restaurateur Joe Bastianich who had tested the product–formerly known as the Wine Mosquito–at his restaurant, Del Posto. The CEO, Nicholas Lazaris, ran Keurig before and after it was sold to Green Mountain Coffee Rasters.
Where does that put Coravin in terms of recent rounds of wine venture capital in apps and gadgets? At the top.
Two days ago, the team behind the label-recognition app Delectable announced a $2 million placement with angel investors. According to venturebeat.com, Club W has raised $3.1 million for their "personalized" wine club. The Danish company behind Vivino, also a label recognition app, has raised $10.3 million.
In previous non-winery M&A news, Lot18 raised $44 million though their last-completed round was in 2011. In December 2012, an anonymous group of investors from Singapore purchased a controlling stake in the Wine Advocate reportedly for $15 million.