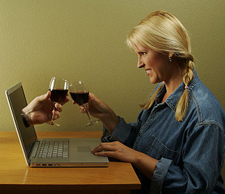 The Senate is likely to pass a measure to have retailers collect sales tax for orders shipped out of state. The issue has been a hot-button issue since many big-box retailers perceive that online-only retailers have an unfair advantage and they have brought their largesses behind this tax equalization issue at the federal level. How would the Marketplace Fairness Act affect wine sales?
The answer is: probably not much.
Although wine e-commerce (hello, 1990s term!) has been growing, it is still hamstrung by regulations. Wineries can only ship to 36 states while retailers, who have much broader and more compelling offerings, can only legally ship to 12 states.
The other factor is shipping. If you buy a few bottles on the way home, you pay sales tax. But if you poke around online and throw some items in your virtual cart, you have to pay shipping even if you don't have to pay sales tax currently. Let's say the store charges $20 a case shipping, which is customary in the northeast for in-region shipments. If you're buying $10/bottle wine, shipping is 16%, so it is almost prohibitive (unless the deal is extraordinary). If you order more than $300 worth of wine to have the shipping be less than the sales tax (assuming 7% sales tax). (Still, the online price may well be a lot cheaper than the in-store price, a phenomenon we have discussed before so it could be worth it.) If you're ordering $300+ cases of wine, paying 7% sales tax is probably not a deal-breaker.
Such a law would therefore stand to impact wines north of $25/bottle and stores in New Jersey. Why sotres in New Jersey? Because if you do an online search for a wine, one from the Garden State usually is one of the cheapest available. Maybe there would be more shipping discounts in the wake of sales tax collection? But some of the lowest-price retailers are already extremely lean margins.
What do you think–how would the proposed sales tax bill affect your wine purchases? Or the wine industry writ large?