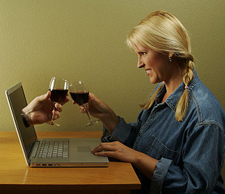 "Greetings in-store customers: You are all chumps."
I've never actually heard a wine store broadcast that message over a loudspeaker. But that's the message some are sending with their pricing.
The other day, I found a great wine at the sharp price of $18.39 a bottle via a local wine store's web site. When I dropped by, the wine was on the shelf for $22.99. I mentioned that I had seen it online for the lower price and the staffer, without hesitating, rang me up at the lower price, punching in a 20 percent discount. That's the equivalent of the fifth bottle free!
We have discussed this issue before. Contrary to some perceptions, New York's State Liquor Authority does not regulate the prices that retailers charge. Thus the dual pricing phenomenon persists, so consider this a friendly reminder: check the store's website if you think the price looks high, are making a large purchase or buying an expensive wine. Internet shoppers tend to be more savvy thanks to the price-leveling power of google and wine-specific search tools such as wine-searcher.com. (Full disclosure: I make a tiny amount of money–-pennies, literally–-as an affiliate of wine-searcher.com.)
On the one hand, I understand why stores do this: An internet customer is a self-service customer who doesn't tax the staff's resources whereas an in-store customer might want to chit chat about which wine goes with chicken and take up the staff's time. But it somehow feels a little dirty to have the dual price structure. Caveat emptor!