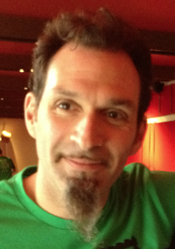 Paul Grieco is the second most influential person in wine in New York City according to our survey of industry elites.
Grieco is a partner at Restaurant Hearth in the East Village and in the Terroir wine bars that now have five locations in the city.
Grieco cut his wine chops at his family restaurant, La Scala in Toronto. He came to New York City in 1991 and by 1995 he joined Gramercy Tavern as a captain, marinating in the "enlightened hospitality" philosophy of Danny Meyer and the sauces of chef Tom Colicchio. He soon came to run the wine program to great acclaim.
But in recent years at Hearth and the Terroirs, he has become known for putting together the fearsomely independent wine lists that serve as part drinks list, part manifesto, and part education, complete with punchy, page-long essays. The wines of the Jura, the wines of Chateau Musar in Lebanon and other food-friendly wines from off-the-beaten path dominate his lists. He's so convinced of the virtues of sherry that he gives away free glasses before 7 PM at the Terroir wine bars. He was a key early adapter of keg wine/wine on tap. Late last year he told me that he thinks Australian wines will be the next big thing.
Five years ago, his stridency was on display as he banned all white wines by the glass other than Riesling during the months of summer. It was so hilarious and so well received that the concept has now grown into a national phenomenon with restaurants across the country at least offering some Riesling selections by the glass, even if they don't summarily dismiss other wines.
His good humor and strong views have made him a pied piper of sommeliers. So it is no surprise that industry elites voted him as the second place on our list.