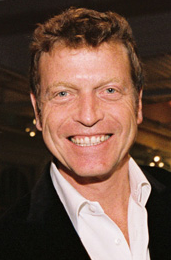 Michael Skurnik is the third most influential person in wine in New York City according to our survey of industry elites.
Although he studied zoology as an undergrad, he got bitten by the wine bug while working at Windows to the World under Kevin Zraly. After a few other jobs in the wine world, he set up his own importing and distribution company in 1987. His brother, Harmon, joined the firm two years later.
Michael Skurnik Wines has an incredibly diverse portfolio of estate wines from around the world: the annual trade tasting is always packed. The portfolio includes many domestic wines as well as imported ones, including the those from Daniel Johnnes and Terry Theise (Skurnik is responsible too for distributing topless pictures of Theise). Over the years, top Skurnik sales reps such as Doug Polaner and David Bowler have gone off to found their own successful companies, further showing the importance of Skurnik as a training ground for top talent.