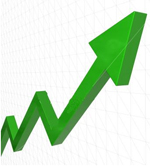 Robert Parker's The Wine Advocate has started arriving in mailboxes and issue #199 aas published on their site late yesterday. The top scores are mind-numbing. If you thought his love of Chateauneuf du Pape's 2007 vintage was the high-water mark for his scores, think again: Parker hands out 100-point scores to 18 red wines, with several others (including first growths, Mouton, Lafite and Margaux) getting a mere 99 points.
Underwhelmed by the list, commenters on wineberserkers reacted, saying "Smith Haut Laffite. Wow." and "It's only March 1st – not April 1st. Is this serious?!?" and "When will Mouton Cadet [$8] join the list?" and "Who cares about any of the 99-point crap?" Tim Atkin tweeted, "Where does RP go from there? Explode in a puff of ludicrous hyperbole? 2010 is a better vintage."
It will be interesting to see if these push prices any higher (as will likely be the case for Fourtet and Smith Haut Lafitte, which were originally forecast to have scores of 98 maximum) or lower in the case of Lafite-Rothschild, which had been coveted by Asian auction bidders before slowing but is not on the list of those receiving perfect scores. Or if it will elicit as much of a yawn from buyers has it does from the online commentariat–after all, 20 wines had received scores as possible 100 pointers based on barrel tastings. In January, I suggested that rampant score inflation posed the biggest threat to the use of scores and eighteen 100s do not reverse my view. What's your take?
Parker confronted the issue of "hype" and inflation head on, saying:
So has there been careless scoring inflation? Of course not. The same standards that gave what looked to be super conservative and very modest scores 32 years ago, are the same criteria that are in play today. The problem is that 2009 is the greatest vintage I have ever tasted in Bordeaux. I am willing to say it loudly, and stake my reputation on it. In fact, perhaps the most remarkable thing about 2009 is that there is no "buzz." We are all tired of the newest Vintage of the Century, but when the real one happens, it has to be recognized, and someone has to point it out. That is not called hype, but accountability, fairness, and independent professional reporting.
A few vintages ago, Parker wrote an essay entitled "Is 2005 the Perfect Vintage?" He gave out only two 100 point scores that year. In Food & Wine he wrote saying "But it would be reckless to claim the finest 2005s will surpass the top wines of 2003, 2000, 1996." Vintage of the century, indeed–and this time he means it, dammit!
Here's the list of Parker's perfect 100-point Bordeaux 2009:
Beausejour Duffau Lagarrosse
Bellevue Mondotte
Clinet
Clos Fourtet
Cos D'Estournel
Ducru Beaucaillou
L'Evangile
Haut Brion
Latour
Leoville Poyferre
La Mission Haut Brion
Mondotte
Montrose
Pavie
Petrus
Le Pin
Pontet Canet
Smith Haut Lafitte Rouge
Also: Pape Clément blanc