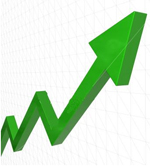 Is inflation crippling wine scores? In the near future, will it take a wheelbarrow of points to sell a Moscato? Let's hope Ben Bernanke–or, eegad, Paul Volcker!–doesn't read this post or he might take the punch bowl away. To the recent evidence:
First, the Wine Advocate's recent reviews of 1,061 "new releases from Napa Valley" came out. I haven't crunched the numbers but Blake Gray did and found that new critic Antonio Galloni's "midpoint" (not sure if this is the mean or median) was 92, up from 91 for Parker's last set of reviews. Fully 123 of the wines received 95 or more points.
Second, an importer wrote this to me via email last month:
The dollars and points are obviously directly related but so is the timing. 90 means nothing today unless it's under $10 really. 91 and 92 are no mans land. The difference btwn 93 and 94 at the $35 price point is also another important barrier causing significant sales swings (when it is 94). But the points are only valid for the issue in question. Once that issue disappears subsequent vintages of a wine that got a higher rating won't cause sales.
Third, this recently appeared in retailer Daniel Posner's daily blast from Grapes the Wine Company:
Every time I turn around, another 2007 Barolo is getting 96 points or higher. Sales sheets have been coming my way with loads of offerings and the points are nearly always the same. 96 points…96 points…97 points, and then, perish the thought, they try to sell me a 94 pointer! I mean really. Who is buying 94 point wine these days. 94 points is for chumps…losers…people that don't really love Barolo. Because if you love Barolo, you are buying 96 points and up…

Leave the 94 pointers for the people that like Napa Cabs…

And the 90 pointers…White Zin drinkers drink 90 point wine!