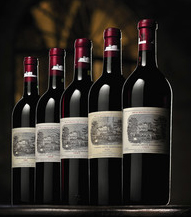 Checking in with the fine wine market, a few datapoints:
* Lafite-Rothschild still commands large dollar amounts, but the bloom may be coming off the rose. Liv-Ex chronicles recent softness in Lafite prices. Perhaps the Asian buyers are no longer willing to pay exorbitant premiums to other Bordeaux wines. Of note, a case of 1961 La Mission Haut Brion just sold for US$59,000 in Hong Kong last weekend.
* Interest in Burgundy appears to be increasing. DRC just hit new highs in London and New York.
* But spreads remain across venues with Hong Kong buyers paying on aver 48% more for DRC than in New York. As a reminder, shipping a case shipping a case of wine from NY to HK costs less than $50.