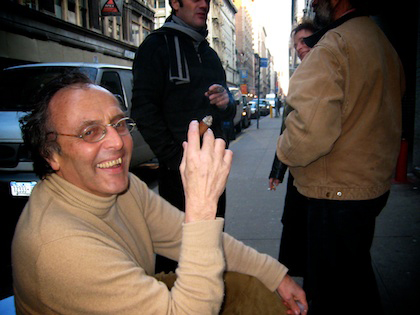 "The concept of taste linked to a certain place has been totally destroyed by technology," Nicolas Joly told a standing-room-only audience yesterday. Joly, author of two books on Biodynamic winegrape cultivation, owns the Coulée de Serrant in the Loire where he is "nature's assistant" (according to his business card.)
Back in New York for another edition of Return to Terroir, a roving show of Biodynamic wine producers, Joly leveled criticism at the appellation system (as he did three years ago at the event). He decried the system that has a tasting by committee, which tolerates wines with "technological" intervention, such as herbicides, pesticides and commercial yeasts and enzymes, which can boost over 350 aromas in wine when they are young. "The concept of appellation has lost its meaning," he said.
He also fired a salvo at the wine media for not drawing any attention to these issues. "I regret that there is not one wine guide in the world that does not tell which wines have been made with commercial yeast," he said. (It's worth noting that, in fact, blogs and a growing number of wine books have discussed the subject.)
Next in his sights were herbicide producers and sales people whose products, he said, cause the plants to get sick but do not let the disease actually run its course, since they have another product to sell you for that ailment. He also pointed the finger at them for trying to demonize copper, allowed in Biodynamics to treat some vine maladies, saying copper at a low level ("one or two kilograms per hectare") is safe. "Yes, in excess, it's bad, just as too much oxygen in the air would be!"
As he talked about life energies, he got more positive. "Earth doesn't produce growth; earth receives growth" from the sun and the moon, he said. He elaborated, saying that if he covered the earth in black plastic, there would be no life. "Earth receives life." And it costs nothing: "Life comes free, if you catch the forces."
He decried "technological" wines that are made in the winery saying that 98% of wine comes from photosynthesis. "If the work in the vineyard is well done, you have nothing to do in the cellar."
He suggested that when deciding if a wine is good, there are several moving parts, akin to a music: playing a stratavarius in the subway would not be an ideal performance. So consider the musician, the instrument, and the acoustics, he advised. Biodynamics can turn a vineyard into a beautiful instrument, but not always if the soil and varieties are not matched right, he said.
In closing, Joly expressed concern about the prevalence of electromagnetic fields, particularly cell phones. "We are enormously changing the forces of life with satellites! Gigahertz are everywhere!" He fears they disturb cosmic energy and could reverse the earth's polarity. "That is climate change." He added that stainless steel vats capture and conduct too much of "electromagnetic pollution" and thus he does not use them.
He then dismissed us saying that we haddn't come to listen to him and that we should all go taste some wine.