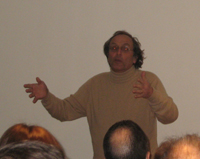 While gesticulating fervently, Nicolas Joly addressed a packed room yesterday at the Return to Terroir event in New York City today. Although the tasting was going on in the next room, separated only by a thin curtain, the standing-room, rapt audience listened to Joly, a sort of evangelist for Biodynamics who makes wine at the Coulée de Serrant in the Loire (search for Coulée wines).
What follows are some excerpts from his talk. It's not a verbatim transcript insofar as every word he said is included (I got lost about the relative benefits of having manure from horses, cows, AND pigs, for example). But while he was talking, I was typing his words as he said them. So without further ado, take it away Monsieur Joly:
What is an appellation controllée? Ideally, it is a type of soil and a match of vines. If you have been putting these vines in the right spot, you have an originality.
How much of the concept of the appellation controllée is left? Unfortunately, very little. The so-called modern farming with weed killers destroys the microorganisms of the soil.
The sun is the way for the vine to catch the climate! If you disturb the sun, the possibility to catch the originality of the vine is disturbed… We don't really understand photosynthesis.
There's a list of 300 aromas that we can put in the wine – pineapple, cassis and so on—done at the expense of the truth. The wines then taste the same.
This explains why there is so much interest in organic and Biodynamics. One thing that is never explained; earth is belonging to a solar system. How is it that they stay around the sun? Through gravity, matter can only come because of the laws of gravity. How does the earth receive the light it needs to it can grow? Through a very complex process. Wavelengths and frequencies. Astrophysicists know that we are surrounded by many wavelengths. But we don't know how to read the wavelengths. Pick up a cell phone and call 5000 miles—but how does it work?
We have been filling the atmosphere with all sorts of artificial frequencies. People always talk about CO2 as pollution but they never talk about energy. At a certain level, it is not a problem. But the density of the wavelengths is weakening the system that brings life to earth. That's a huge problem and explains why biodynamie is coming.
Why is Biodynamics expanding? Modern farming is weakening the system…
Biodynamics restores a situation that was there a century ago—it would have had no meaning a century ago. Why do people practice Biodynamics? They are really farmers…The idea is to rediscover what nature can do, the subtleties of what nature can achieve. Does it mean that Biodynamics is the best of the best? No, it is not a goal, it is a tool! If I plant vines where it is better to plant cabbage, I'll never have good wine!
It is absurd to sell a wine as Biodynamic [on the label]; you sell a wine because it fully reflects the terroir and Biodynamics helps express that terroir at its best!
If you don't use systemics, you will still have a certain originality. If in the cellar, you don't use heavy technology, you will have products of nature. Technology in the cellar tries to replace what was destroyed by modern farming.
If your farming has not destroyed this beauty by stupid actions then in your cellar you have almost nothing to do!
Life on earth is just made of music! Sounds! Some wineries today are playing music in their cellars. I have someone coming to play get rid of one main disease. The music shouldn't play the same song repetitively from the same spot…
Why would you want to do anything in your cellar? There are two families of wine: made by nature, and the other where nature was not considered or respected.
The big muscle wine like the man of the soap [he flexes; Mr. Clean?] but there is no soul! No subtlety! For the others, there is the face of someone the soul of someone, a song.
Biodynamics is no mystery; it is just a better way of putting things together. The spirit of a vine can come down better at physical level if you understand the laws that permit energy to become matter. Some people say it is not for me, I say fine. Today everyone pretends to be organic or Biodynamic. We want a certification to show that they have to be biodynamic for three years, to show that in the bottle you have a song!
We want bottles with originality. Sometimes we find them at a flea market from a guy with a terrible French accent, but the wines sing.
[On vine clones] Some people took one single vine and made one million copies! Absurd! Flowering on the same day! A loss of complexity…
What can I do to increase the complexity of my wine? I cannot do it with technology of cassis flavor—this is childish! But with the vines! You don't want monoculture!
The market of Mr. Big Muscle wine is gone! The page has turned! Big is beautiful is behind! Small is beautiful! The market is truth! A true product is a market! It is a fabulous change!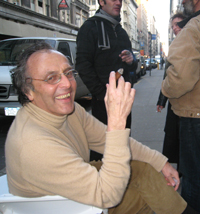 [Question about irrigation] When you bring water on the surface of the soil, you keep the roots upward. If you bring an incentive for the root to go down, it will go down. I think irrigation is one factor, which is slowing down what a vine can achieve. It's a weakness. There are weaknesses everywhere!
[Afterward, I asked him what would be a catalyst against Mr. Big Muscle.] The Internet! Truth now has a new forum! People have been fooled too much and can now talk about it. There will be a movement.