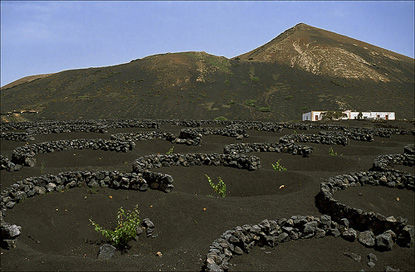 Talk about low yield per acre! Hit the comments with your thoughts on where this striking mystery vineyard is. First one to get it right wins our respect and admiration–and a link back to your site if you have one.
UPDATE 1/28: Congrats, Andrea! Unfortunately I included a link to the image initially, which may have given some people an advantage. But thanks to those who commented!
Indeed, it is the very impressive growing climate of Lanzarote in the Canary Islands, specifically the valley of La Geria. Only 100 miles or so from Africa, the vines are planted in black, volcanic soil in slight recesses to capture the scant water and protect against the winds, as the semi-circular stone walls also do. Extreme wine making! Has anyone ever tasted the wines? Or visited? See more shots of the vineyards.