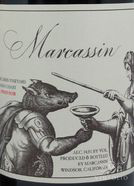 The most recent newsletter from Marcasin (pdf), written by owner Helen Turley and husband John Wetlaufer, makes for fascinating reading. Consider some of the tidbits. Readers learn:
* They are avid observers of golf.
* Marvin Shanken asked Helen Turley to increase his personal allocation of Marcassin while presenting her an award from his magazine, Wine Spectator.
* Robert Parker tasted the wines with winemaker Helen Turley. I guess these weren't among the "more than 60%" of wines that he purchases.
* Robert Parker loved them! More than La Tache 2006!
Really, the newsletter is shocking in the aggressive swipes it takes at Domaine de la Romanée-Conti-La Tache. At their tasting together, the Marcassin owners poured the '06 for Parker alongside their '06s. Predictably, Parker continues his cartoonish recent trashing of many Burgundies, calling the La Tache calling it "almost undrinkable (stemmy, metallic, frightfully tart because of green acid, and obviously made from underripe fruit." Meanwhile he heaped praise on the Marcassin handing out high scores and calling it "prodigious." It's not that DRC wines are beyond reproach; rather, even though I have not had the pleasure of trying it myself, the wine has received praise from Burgundy fans. I suppose that it could possibly be acceptable of Turley and Wetlaufer to quote Parker's reaction to their little experiment, no matter how self-congratulatory or unbalanced their reporting. Yet in the next section of their newsletter, they trash not only DRC for inconsistency but also all of Burgundy! Really, if this is really one of America's best pinots, why just stand on your own accomplishments and not lash out at Burgundy?
Of course, whether Marcassin is, in fact, one of America's best pinot noirs is highly debatable. Parker has not reviewed the wines of Burgundy personally for over a decade and was even sued by Faively, which united many producers in the region against him. The Wine Advocate lost much of the credibility the publication had for Burgundy. (I asked the Advocate's new Burgundy critic Galloni what he was going to do try to recapture that; Galloni will also review California wines for the publication and it will be interesting to see his opinions of Marcassin.) But the Wine Advocate's dearth of coverage in the region left a significant void for Allen Meadows and his publication, the Burghound. Marcassin's strident newsletter has a certain fin-de-regime character, as if they feel the tectonic plates shifting in the wine world and know they are heading out to sea.
The Marcassin style is controversial. Consider these tasting notes. Here's Robert Parker on the 2006 Blue Slide Ridge:
Extraordinary blueberry, raspberry, floral, and forest floor aromas jump from the glass of the 2006 Pinot Noir Blue Slide Ridge. This cuvee always possesses a fabulous texture, a full-bodied mouthfeel, and superb fruit concentration. The 2006, atypically evolved and complex at age three, is showing well already. This wine will be a huge success when released given its burgeoning complexity and amazing texture as well as richness. 97 points
And here's Allen Meadow's review of the same wine, but the 2005:
Burnt vinyl, alcohol and menthol aromas push the fruit to the background to reveal extremely dense and suave big-bodied flavors that coat the palate on the hot and short finish. This is difficult to like and it's hard to see it aging well. 79 points
Incidentally, Meadows found the 2006 DRCs "indeed quite impressive as the natural elegance of the vintage and the traditional vinification approach melded to produce wonderfully aromatic and refined wines." He called the 06 La Tache a "don't miss!"
I know which of the reviews I will pay more heed to.
Read the July 2011 newsletter from Marcasin. (pdf)