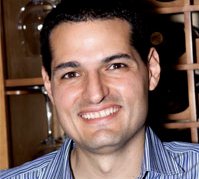 There's a new order at the Wine Advocate. Last month, Robert Parker announced editorial changes at the publication he founded in 1978. The moves notably included promoting Antonio Galloni to a greater role, as Galloni took over reviewing California wines from Parker himself as well as adding coverage of Burgundy (ex-Beaujolais) to his beat that already included Champagne and all of Italy.
To get to know Galloni better, I recently emailed him a few questions on a wide range of topics. He took a break from tasting in Burgundy, where he is now, to respond. His unedited replies follow below.
Dr. Vino: What's an early, formative wine experience that you had?
Antonio Galloni: I was lucky to grow up around wine. Both sets of my grandparents always had wine on the dinner table, so I was exposed at an early age. My maternal grandfather loved the great wines of France and Italy. He was also a long-time subscriber to the Wine Advocate and had an extensive library of books on wine that fascinated me, even as a child.
My parents owned a food and wine shop when I was a teenager, and that's where I got a lot of my in-depth exposure to Italian wines. They were bringing home great bottles all the time for us to try. It was a fantastic education.
I see you went to Berklee College of Music. What's a piece of music that brings you joy?
Mozart's opera Don Giovanni always makes me smile, but there are many pieces of music that bring me joy, depending on my mood.
You tweeted that you are "100% focused on wine now." Where were you previously employed and what did you do there?
I spent fourteen years in financial services in a variety of marketing and business development roles in both the traditional asset management and alternative asset industries.
Which is your favorite Serie A team? And NFL?
My favorite serie A team is Juventus because it is the team I grew up watching with my dad. I went to undergraduate school and graduate school in Boston, so my favorite NFL team is the Patriots. I also admire Tom Brady a great deal for his leadership, ability to perform in clutch situations and his ability to raise the level of the players around him
How would you describe your wine preferences?
In terms of critical evaluation, one of the main things I look for is conviction. The style of the wine is less important to me than feeling that a winemaker is 100% behind what they are putting into the bottle. I believe that, over time, that quality comes through. Of course, I am also looking for the attributes all great wines share; complexity, length, textural elegance, and in the very finest wines, the capacity to continue to improve over time.
As a consumer, it is much easier. I am simply looking for wines that make me want to drink a second glass.
How important is blind tasting to wine evaluation?
I am first and foremost a wine consumer. I subscribe to all of the major publications and many of the smaller, niche newsletters as well. I am looking for reliability and consistency in the critics whose opinions I respect. I don't care if a wine in question was number 99 out of 100 tasted, if it was tasted blind or unblind, if was tasted under perfect conditions after the reviewer got a great night's sleep or at 4am after the critic had an argument with her spouse. What I care about is that a note reflects what is in the glass.
There is no question blind tasting is useful, especially for wines that are similar, or in competition settings. That said, I find blind tasting much less useful in regions where terroir is a fundamental part of the wine culture, which includes Burgundy, Piedmont, Germany, Alsace and Austria to name a few. Barrel samples are almost never tasted blind in regions where production is small because it is impractical. It is also virtually impossible to tell a reader about the potential age worthiness of a wine without knowing the wine, its history and overall track record.
How many wines can you effectively taste in a day?
I don't have a set rule, I trust my judgment and experience in each of the regions I cover. It also depends on what I am trying to get out of a given tasting. If I am focusing on reviewing finished wines in bottle I give myself more time with each wine, but if I am tasting vins claires in Champagne, for example, where the purpose is to get a general sense of the vintage, I can go through a large number of wines very quickly. It also depends on the vintage. The 2003 Barolos were hard to taste because the tannins were so hard, but the 2004s were much easier because the tannins were sweet and ripe.
Tasting a large number of wines is like a sport. It takes a certain amount of training and discipline to achieve endurance. A lot of people think fatigue happens at the end, but that is not my experience. I am more likely to encounter fatigue at some point in the middle of a tasting, so I take many breaks and drink a lot of water to stay fresh. I also give myself time to re-taste all of the wines that are of significant interest. When the wines are great, I am never tired.
How many times have you been to Burgundy and tasted there?
I have been to Burgundy twice prior to this current two-week trip.
Burgundy wines are among the most coveted in the marketplace. Burgundy enthusiasts have looked to other sources of information, such as Burghound, for guidance. What can you do for Burgundy coverage in the Wine Advocate that Pierre-Antoine Rovani and David Schildknecht were not able to do?
I think I will bring a fresh, young perspective to coverage of Burgundy. I am especially concerned with lack of wine knowledge among consumers of my generation, which is to say between ages 30-40. I plan to use social media and technology to give readers a more interactive experience with wine, as I have already done with Italy and Champagne.
What's your least favorite vintage for red Burgundy in the past decade?
I always tell my readers to focus on grower first and vintage second. That said, the vintage from which I have tasted the highest number of challenged wines is 2004.
How many times have you been to Sonoma and Napa and tasted there?
Twice.
Which California wines excite you the most?
As I mentioned above, I am looking for wines made with conviction, and those wines can encompass a wide range of styles. I think many of the wines that will excite me the most are those that I haven't yet discovered. California is vast, and one of my priorities for this year is to focus on up and coming producers and regions.
What do you think of the trend in California toward lower-alcohol wines that show more acidity and are more food-friendly?
I don't like trends. I want to drink a wine that makes me feel something. It can be a big, bold Napa Cabernet Sauvignon or a cool-climate, lower alcohol wine. It comes down to balance. Specifically with regards to alcohol, some people have drawn a line at 14%. Most Barolos are and have been over 14% for years. They are cool-climate wines, pair beautifully with food and very, very rarely show any signs of heat whatsoever.
As you are no doubt aware, there is speculation that you, either alone or with some investors, have acquired an equity stake in the Wine Advocate. The possibility that outside investors may be involved has some subscribers concerned; they wonder if those investors might have financial interests in the wine world and they think that if outside investors are brought in, that should be disclosed. Have you taken an ownership stake in the Wine Advocate, were there other investors who backed you or who took equity stakes themselves, and, if so, can you say who they are?
I think Robert Parker has publicly answered all of the questions regarding ownership of The Wine Advocate.
Do you have a managerial role now at the Wine Advocate? Going forward, for instance, will you be involved in planning the editorial calendar, and have personnel decisions?
My responsibilities at the Wine Advocate are to review the wines of Italy, Champagne, California and Burgundy, specifically the Cote d'Or and Chablis. I have always had 100% control of my own editorial calendar and of my content. Every review I have written has been published exactly as I submitted it, with the exception of the occasional grammatical correction.
In March, you will be holding a "day-long celebration dedicated to Barolo" for consumers and with fifteen producers from the region. Do you foresee more of these types of events in your schedule?
Yes. We will be much more active in educational events that bring consumers closer to wine. Our next event is a complete vertical of Masseto, the first and only time such a comprehensive tasting has ever been held, and probably the last considering how rare the early vintages have become.
What would it take to liberalize wine shipping laws in the US?
This is frankly a subject I have not had much time to think about.
How great a threat to the fine wine market do counterfeit bottles pose?
The auction market continues to grow at a very fast clip notwithstanding all of the problems that have come to light in recent years with counterfeit bottles. This suggests that the participants in those markets accept and know the risks involved. The greater risk to the fine wine market when it comes to new releases is the huge amount of wine that the baby-boomers have in their cellars and will never drink. Those bottles are and will continue to enter the market via auctions, making new releases that are priced higher much less compelling than well-stored wines that are ready to drink.
Which is the more egregious manipulation in winemaking, watering back or chaptalization?
Chaptalization is an accepted practice in Burgundy, Champagne and other regions. Like other winemaking techniques, it comes down to producers being judicious. Watering back strikes me as less of an accepted practice.
Which wine do you plan to pop on Valentine's Day?
I am a bit late on this one, but we drank a bottle of one my favorite wines in the world, Cedric Bouchard's 2006 Rose de Saignee Le Creux d'Enfer.