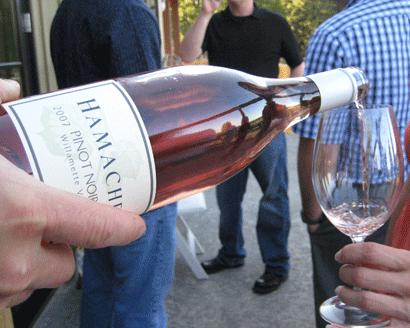 As a category, rosé wine has had to fight for respect. But unlike Rodney Dangerfield, the category has actually gotten respect recently as it has become more popular in the US and the rosés now surpass white wines to be the best sellers in France.
Rosé has been seen as a "not serious" wine primarily because–with few but notable exceptions–it doesn't age. Just buy the most recent vintage, chill it and toss it back while on the deck, patio, veranda, picnic blanket, or outdoor cafe. And lest I need to clarify, it's dry rosé that I'm talking about, not white zinfandel or its predecessor, the original white zin, rosé d'Anjou.
Even separating the dry from the sweet, there are still a lot of rosés that don't cut it for me. Some common faults as I see them are: too high alcohol, too thick, too short a flavor, and too expensive.
So now we arrive at perhaps the most burning August wine discussion: what is the best rosé? And since I usually drink roses from France or Spain, why not add a patriotic twist and try to determine the best American rosé?
Since I am a social scientist by training, I am loath to declare something the best without trying everything in that category. But throwing my traditional methodology to the wind, I'm happy to declare the best two rosés made in the United States: Hamacher, rosé from pinot noir 2007 and Copain, Le Printemps rosé 2007
Eric Hamacher makes his rose using the saignée method, bleeding off some of his pinot noir juice. He then makes it like a white wine, which, until last year, actually meant aging in neutral oak barrels. Since the 2007 vintage, he's made it in stainless steel and while I lack the historical comparison, this vintage is mighty fine. Light pink in color, with aromas of strawberry, the wine has refreshing acidity on the palate and has moderate alcohol (13.1% on the label). But because I am a skinflint as well as a wine lover, the most pronounced aroma to me is that of a bargain.
Originally on sale at the winery for $15, when I stopped by last week it had been reduced to $10 (find this wine). The helpful staffer with whom I spoke told me that they had a winemaker dinner recently at the winery and offered it at the outrageously low price of $100 a case. If I didn't live 3,000 miles away, I'd drive over and pick up some more! More American rose producers should price their wines accordingly and watch them fly out the door too.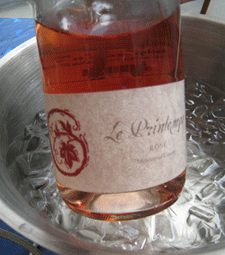 The Copain rosé is also from Pinot Noir (though there is a touch of Syrah as well) from Mendocino County in California. The wine, pale in color, has a beautiful poise between fruit and acid and an even smoother finish than the Hamacher. The price is pretty right too at under $15 (find this wine) and I can find this one near me.
So this year we have a statistical tie with these two find roses taking home the gold. Next summer, the judges will award major points for degree of difficulty for the first good, American dry rose in a box!