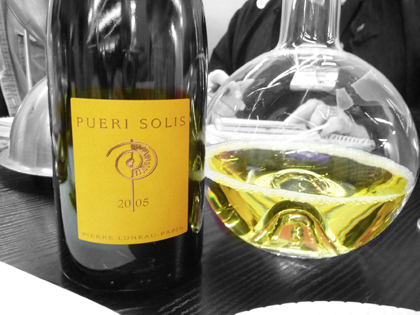 Muscadet gives pleasure when it is freshly squeezed. But aging the best examples can be worth the wait.
Muscadet gains richness with time spent on the lees. Lees are neither Confederate generals nor blue jeans but rather spent yeast cells that fall to the bottom of the barrel or tank when their work is done. Stirring them can give a wine a broader, heftier feeling–without at all adding woodiness.
At Luneau-Papin, the wines not only highlight different soil types, but also different lees aging.The tasty "L d'Or" comes from both granite and gneiss soils and sees 11 months on the lees. (This wine can also do well with extended aging in bottle as the 1999 I recently tasted was fresh and delicious.) The golden "Excelsior" bottling, from schist soils, sees 36 months on the lees and is creamier and richer. Their structured "Peuri Solis" sees 42 months on the lees before bottling.
As the name of the grape (Melon de Bourgonge) suggests, it originally hailed from Burgundy. Some juice from Pierre Luneau-Papin's vineyards recently made a trip back to Burgundy to be made into wine by none other than the maestro J-F Coche, making me wonder if it would be, in fact, be a Melon de Meursault. A call to Coche (he has no email or website I could find) divulged that he had, in fact, mad a "miniscule" amount of Melon de Bourgogne. Coche-Dury has been known to drive wine enthusiasts to the brink of their senses in seeking out his wines. Alas, this curiosity won't ever be available commercially as Coche says it for "personal consumption." But it sure would be fun to try!