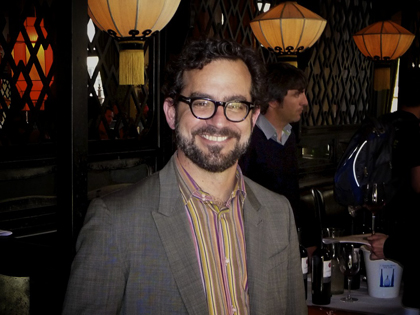 A couple of weeks ago, Robert Parker went to Spain to collect a medal for his contributions to Spanish wine. However one views his impact on Spanish wine, it's worth noting that it was only the second time he had been to democratic Spain. And since his previous visit was only in 2009 after he had handed over the reviewing of Spanish wines to his associates, he never visited a vineyard during his tenure as Spanish wine reviewer. Certainly visiting a country is not a prerequisite for knowing a country's wines, but it helps exploration, knowledge and discovery.
One American who relishes being on the ground in Spain is Andre Tamers. He imports a range of exciting wines from Spain (and France) exclusively from small, family-owned properties that include some of the best white wines from Spain. Andre started his wine career in the 1980s with a brief stint at the New York City wine story Sherry-Lehmann, followed that with five years working for a distributor in New York. Then he set off to Spain to pursue painting and, as so often accompanies the pursuits of creative artists, started waiting tables and serving wine. While there, he visited tons of vineyards and eventually threw in the painter's palette in exchange for his palate (and pallets of wine). In 1996 he and his wife moved to North Carolina and set up de Maison Selections, now imports wine, sherry and cider from 25 estates. He told me at their recent portfolio tasting (at T. Edwards, their NY distributor) that he only imports wines of family-owned estates, where the owners are actually present–thus excluding bankers from Madrid with recreational winery projects.
I had a chance to taste a few of the wines at the walk-around tasting.
The Txakolis in his portfolio are really fun. I had previously poured the 09 white and the 2010 rubis from Ameztoi. The class unanimously loved the dry, zippy white with a light carbonation–one woman said that she had previously had it and it was her favorite wine in the world! The Rubentis, a rosé, is built on the same chassis but has a slightly more tannic finish, which didn't wow the class in the same way but is still a terrific wine.
I already mentioned the fascinating Basa Jaun cider but there is also the Isastegi Basque cider, from the Spanish side of the border. Dry! Yeasty! Gulpable!
D. Ventura as some lovely renditions of the Mencia grape from Ribeira Sacra. The 2010 Vina do Burato was showing a little tight, I thought. But the Vina do Caneiro 2009 was a little riper and quite a nice expression of Mencia.
Vina Sastre, from the Ribera del Duero, had a 1996 that was drinking really well. Ribera's wines aren't always built for the long haul but the vibrancy of this wine certainly shows well now and possibly portends good things for the future.
The star of the portfolio though, in my view, was Do Ferreiro, particularly the albarino cepas vellas. Located in Galicia (Rias Baixas) and run by Gerardo Mendez, the winery (whose one mencia is not too shabby) is know for their albarino, which grows on trellis that tower overhead within a shell's throw of the ocean (see video). The revisaca 09 is a base of mostly albarino but has some Treixadura blended in, which rounds it out. The basic 2009 albarino is like drinking wine straight out of a scallop shell–has Max Riedel thought of that yet as a vessel?–pure acidity and mineral that is more refreshing than running through a sprinkler (and you get to stay dry, to boot). The Cepas Vellas 2009 is made from 300-year-old gnarly vines using indigenous yeast in the fermentations (true of all their wines) and spends one year in tank with lees stirring. It's not made every vintage; in 2008, there was no cepas vellas. The 2009 is remarkable: like the regular albarino, but more mineral intensity undergirding citrus liveliness with a compelling depth of flavor and finish.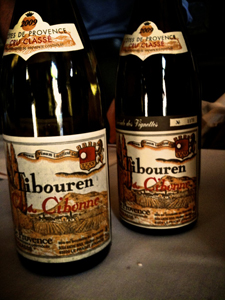 Unfortunately, I didn't try any of the Remelluri wines, including their blanco, which I am now kicking myself for! Boo hoo!
There was a pair of rosés from Cotes de Provence, Clos Cibonne. But they are not your mother's Provencal rosés. These are sous-voile rosés from the Tibouren grape! They both have an intense, dark hue, and a nutty, salinity that makes them more of a cerebral rosé than a careless quaffer.
And the sherries of Maestro Sierra-Jerez are the kind of sherries that make you understand what all the fuss is about sherry! Too many for me to make notes on in this setting, but from dry to sweet, the fortified wines were impressive.
Anyway, it was nice to chat a bit with Andre. Maybe one day he'll be on stage receiving a medal in Spain.