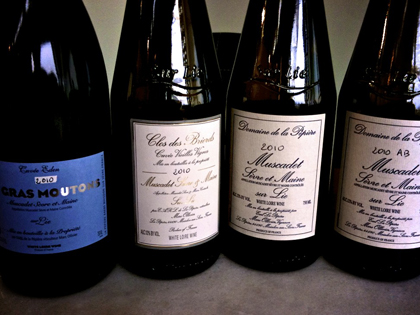 Muscadet has had recent parallels to Goldilocks: The wine region near the mouth of the Loire River was hit by a reduced harvest in 2008, an abundant harvest in 2009, and a just right harvest in 2010 that has superb quality too.
Outside of hipster wine circles, Muscadet is not so well known among younger wine drinkers. That's because of the wines are often indifferent at best; many of the growers sell their grapes to a duo of negociants, who in turn sell to British supermarket buyers. So when Mother Nature reduced the crop to 25 percent of the previous year's levels in 2008, the short supply meant many growers raised prices to keep afloat financially. But that turned off the supermarket buyers, who walked and found another wine they could sell for that price point. Then with the abundance of 2009, prices fell. As a result of this turbulence, dozens of growers have gone out of business.
While that is sad, the best of the small producers have not had as difficult a time since they aim to make a distinctive wine at a slightly higher price point, rather than low-priced, high volume wine that supermarket buyers can more readily swap out for The Next Cheap White.
As to the quality of the vintages, the 2008s are mostly gone but the wines that did appear on these shores from the top growers were actually quite good. I have tasted many 2009s, including in a blind tasting in New York a few months ago, and while they are surprisingly rich and full, they are perhaps a vintage for Muscadet newbies rather than aficionados. In some of the wines, I have found the 09s somewhat innocuous, lacking that distinctive blend of brine, iodine, acidity and minerality.
But the great news is that the 2010s have all that crunchy minerality in spades. I tasted some of the 2010s from Domaine de la Pepiere, Guy Bossard and Jo Landron in the Loire in February. They are delicious and even though the early samples of top wines are still tightly wound, they have recovered that nervy intensity that I found frustratingly lacking in many of the 2009s. While the entry-level wines from each of these producers will make the perfect accompaniment to many (outdoor) meals in my house this summer, the real magic will be in these producers' top wines from the vintage. I'll definitely be tucking away a few magnums since older Muscadet remains one of the affordable pleasures for wine enthusiasts.
2010 Muscadets to seek out:
Domaine de la Pepiere: the Domaine is crackling; the Clos de Briords has really got the stuffing; and the Gras Mouton is so gneiss.
Jo Landron: the Amphipolite Nature is fun drinking; the Fief du Breil has more intensity.
Guy Bossard: his three wines offer a study in terroir.
Luneau-Papin also a top-notch producer, but I didn't get a chance to try their 2010s. More to follow on older Luneau.