All too often, French labels are stuffy. However, when it comes to good vin de table wines, puns and word play abound. Consider these from the Loire: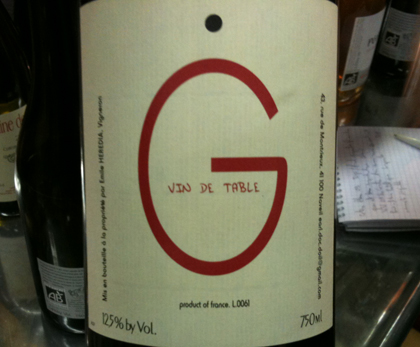 This is a tasty yet tannic (thanks six-month maceration!) gamay from Emile Heredia of Domaine de Montrieux in the Coteaux du Vendômois. It's labeled simply "G." With a spot over it. He told me, "The anglais say it doesn't exist–but they haven't looked for it!"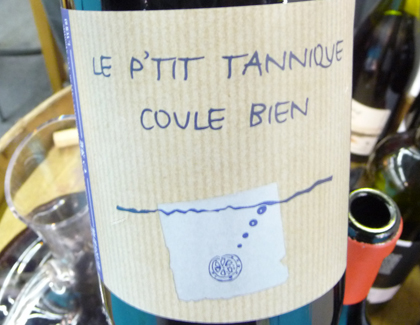 This wine is made by the mad punster, Thierry Puzelat. The label, "the little tannic," sounds slightly like the French pronunciation of the Titanic. The line below reads something like "goes down easy…" And the light, fresh, juicy wine does!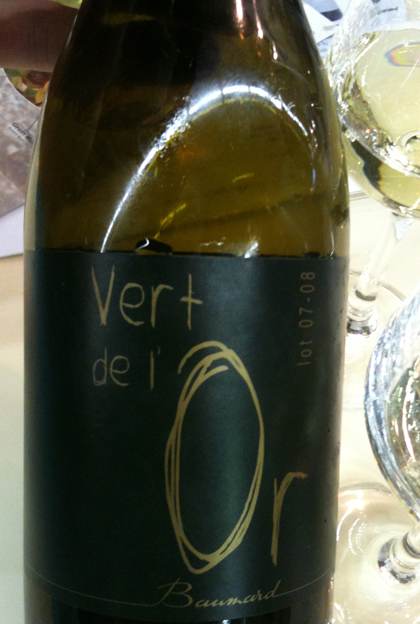 Florent Baumard says that Verdelho has been planted around Savennieres since the early 19th century. However, it has been banned since it is not an authorized variety. He had previously considered these vines, for administrative purposes, chenin blanc but a "good neighbor" tipped of the authorities that it was verdelho. Rather than uproot it, he has made a dry or sweet table wine since 1996 and labeled it as "vert de l'or," which is pronounced more or less like verdehlo. This year, the 08, the wine was made in a sweet version yet has great balance.
As readers of Wine Politics may recall, an certain number of producers are so frustrated with the appellation system that they have gone outside it to make a quality wine in the lowly vin de table administrative category (sort of the jug wine of France). One of the drawbacks to making a quality vin de table has been that the laws prohibit mentioning the vintage, the grape variety or the place. However, the category has been renamed vin de France and, since 2010, permits a mention of the grape variety and the vintage. Perhaps this sill spur more producers to leave the AOC system and make funny labels? They love them in France!
I saw all these labels at the very fun Salon des Vins de Loire, which I attended on an InterLoire press trip. Details to come about the excellent 2010 wines, older vintages, and more!