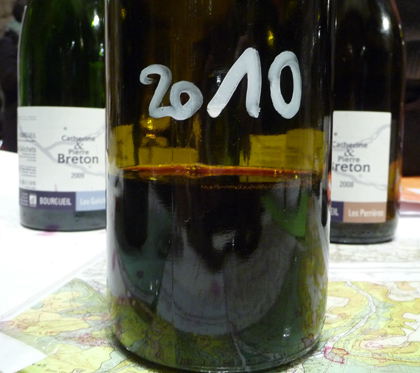 The Loire has such diverse wines–red, white, pink, sparkling, sweet–that there's enough to keep a wine enthusiast's attention for a long time. Add to that a refreshing level of acidity in the wines and there's a lot to interest a foodie too since the wines pair so well with food. And of course they offer some of the best values in the wine world.
I had the opportunity to meet vignerons and taste over 300 wines last week in situ. Some of the wines were embryonic, barely finished fermenting and difficult to assess. Others had glorious amounts of age on them, a decade or three, including Domaine Huet and Domaine Baudry. (As I mentioned in a previous post, most of my time was at the wine trade show, the Salon des Vins de Loire, which tends to favor breadth over depth. But I did get to poke around in a couple of troglodyte caves hewn from limestone.)
I also blind tasted 70 Loire wines at the NY offices of Wine & Spirits a couple of weeks before I left. As a general sketch for such a large region, I've reached the following conclusions about the three vintages now or soon to be on the market: 2008 was noted by higher acidity and in some subregions, lower yields; 2009 has slightly rounder wines, which can be a good thing or a bad thing depending on your perspective and the wine; and 2010 is an exciting vintage, somewhere in between the two previous ones stylistically. I will add some more flesh to these bare bones in a future posts, particularly for Muscadet, some cabernet franc, and one heirloom variety. So stay tuned for some related posts in coming days and weeks.