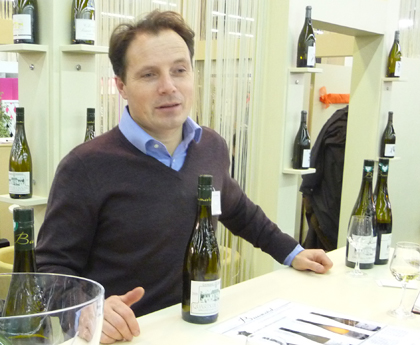 Florent Baumard makes gorgeous, beautifully precise wines from Savennieres, Coteaux du Layon and Quarts de Chaume, among other appellations. His family has been making wine there since 1634. But since 2005, in a move somewhat at odds with the region and age-worthy wines, he's been putting the wines all under screw cap.
The experiment first started in 2003. Frustrated by the different evolution of wines under cork, Baumard started with the Clos du Papillon bottling from Savennieres: Half the production went under cork, half under screw cap (aka Stelvin closure). Within two years all the still wines were under screwcap. I tasted the 2007 Clos du Papillon Savennieres and didn't find it reduced but it was tight, presumably from youth. I also had a 1999 Clos de Saint Yves Savennieres, bottled under cork, that wasn't showing too much evolution; instead it was rich, layered and deliciously complex as chenin blanc can be. So is it the right call? Who knows. One day in the future, it would be fascinating to taste some of those '03s bottled under different closures.
I tweeted about the screw caps–not exactly breaking news, but interesting nonetheless–and someone joked if Florent wasn't just a little bit Australian. No, he replied, but after his saga with verdelho, he admitted he admires their freedoms.