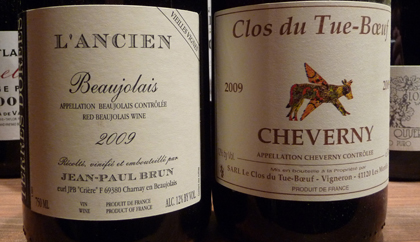 The past few weeks have seen a few listicles about top wines or most memorable wines had last year. As is the nature of such lists, they generally skew to the fine and rare. I don't have a problem with that–in fact, maybe I'll get around to doing one of those myself–but there's also something to be said for the everyday wines that bring great pleasure. I bought two such wines by the case in the last year and enjoyed them often.
Both are 2009 reds, one from Beaujolais and one from the Loire. The vintage was very kind to each region and each is made by a leading producer in the region. The J.-P. Brun Terres Dorrées, "L'Ancien," 2009 is a wine to make converts of Beaujolais haters. It's been a house staple here for a while but this vintage is particularly good, maintaining the snappy acidity of gamay but having a little more roundness thanks to the vintage. I served it to a lot of non-wine geek friends who really like it. The term "L'Ancien" refers to the traditional style of viticulture
The Cheverny comes from the estate vineyard of the Puzelat brothers. It's a blend of gamay and pinot noir, made in a natural style. It's a graceful introduction to a slightly more wild (low sulfur) version of natural wines. Delicious on its own, the mouthwatering acidity makes you look forward to food–as well as the next glass.