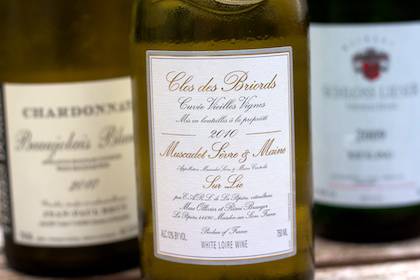 What's the best white wine currently in the US market for about $15? I'll make a case for the 2010 Clos des Briords from Marc Ollivier (Domaine de la Pépière).
The 2010 is electric. After the 2009 had more ripeness, I find 2010 a reversion to the exciting norm of citrusy freshness and minerally, iodiney verve. Pairing it with seafood, particularly shellfish, is probably about as much fun as you can have with a $15 white wine. (search for this wine at retail) The wine comes from a single vineyard in Muscadet, one of vines planted in the 1930s. The wine stays on its lees up until bottling, which also helps account for more depth than your average Muscadet. It's also particularly age-worthy, and I'm scouting out some magnums to tuck away. Emphasizing the minerailty over fruitiness means this wine isn't for everyone. But for those who love wines so taut you could play a DVD on them, check out what is the best white value out there.
A runner-up would certainly be the Terres Dorées Beaujolais Blanc, a Chardonnay, also from 2010 (above, left). The wine is a perennial better value, but the 2010 exhibits a value chardonnay in its minerally, unadorned form that is stunning. (On a related note, I was a huge fan of the 2009 red Terres Dorees, but didn't find the 2010 red to have the same snap.)
Which wine would you nominate as the best white wine around $15 in the market today?