Crises–they're everywhere, not just the financial markets. In France, the low-end producers have been in crisis for some time with adjustments in global demand and European policy. And for appellation wines, theoretically high-end of the quality pyramid in France, the crisis is that the system is now approving bad wines while squeezing out producers who dare to be different. I explore these issues in my book, Wine Politics, and Mike Steinberger offered his own recent broadside against the AOC system in discussing the celebrated case of Jean-Paul Brun's 2007 Beaujolais. In a nutshell, the wine tastes great and was denied the appellation while truckloads of insipid wines were given the green light since they were deemed "typical" in an AOC taste test.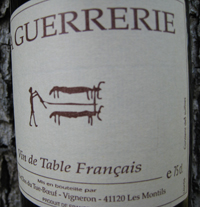 In a series of posts, I'll be exploring some of the producers who have decided for whatever reason to make their quality wine outside of the appellation system in France.
And one of my favorite such producers is the super-naturalista and heirloom grape cultivator Thierry Puzelat in the Loire. I've been reluctant sometimes to pour wines made from the hipster grape variety to an audience of non-wine geeks. But I poured his Pineau d'Aunis (about $20; where to buy?), at a recent at a recent event in Chicago but it rocked the house.
But the wine for today is La Guerrerie (about $20; where to buy?). Since it is bottled as the lowly administrative category vin de table, it can't state grape, place nor vintage. Thus it is simply La Guerrerie, which I thought was some sort of cheeky name riffing on "war" (la guerre) for the struggle with the authorities. But it is not so. I queried the wine's US importer, Joe Dressner, who replied:
Guerrerie is a site, about 68.37% Côt [malbec] and 31.18% Gamay. Folklore has it that the spot was where the ancient gangs of the area used to rumble, or something like that. But no one is certain. Nevertheless, that is the name of the plot on the map. It doesn't have the AOC because the wine took a long time to finish and it was not in a tastable form when the AOCs were evaluated.
The wine, with only a dash of sulfur added before bottling, is dark in color with great aromatics, particularly a grind of pepper. The wine has some fruit, lively acidity and a fun level of tannins that make it substantial and extremely rewarding–a perfect red for fall weather since it's got more heft than a straight gamay but not as much as, say, a barrel-aged cabernet.
For more on the Puzelat brothers, including photos and why he has to maintain to wine making facilities 50 years apart, check out a very thorough post on Bertrand's Wine Terroirs. And don't forget how well Thierry Puzelat did as the Cinderella in Wine Madness!