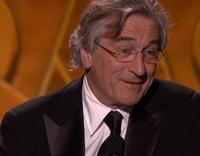 SIPPED: critiquing the critics
Robert De Niro honors Francis Ford Coppola's cinematic achievements–by commenting on his wine (and their scores). Be sure to check out the video for the PinotShiraCab! [LA Weekly]
SIPPED: 19th century Champagne
Remember those old Champagne bottles found by divers in the Baltic? Well, they were popped open last week and one taster said that the Veuve Clicquot had "immense concentration." Must not have been yellow label, then!
SPIT: glycoproteins?!
New research suggests that glycoproteins in wine may be the cause allergic reactions. Will we see a Surgeon General's warning for glycoproteins on the label before we see any mention of possible health benefits of wine? [Science Daily; Journal of Proteome Research]
SIPPED: Burgundy woos China
A Chinese film star inaugurated was scheduled to inaugurate the annual Hospice de Beaune auction, where the catalogues also had Mandarin on the cover. Burgundy officials announced a €400,000 to "conquer the Chinese market."
SIPPED: Lafitte
A Chinese businessman has purchased a dormant Bordeaux label–Chateau Chenu Lafitte–for his son. "Our objective is to sell the wine in China." [Sud Ouest]
Sipped: Dining arbitrage
Thomas Keller dinner in Hong Kong, $835; Per Se, $275 (wine not included). [WSJ]