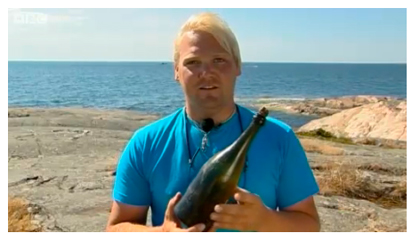 Nordic divers have found a cache of old champagne bottles on a shipwreck in the Baltic Sea. Christian Ekstrom (pictured above via BBC) and his dive partners could not contain their enthusiasm at finding the intact bottles that may date from the late 18th century. So they brought one to the surface, uncorked it, and had a swig. Which statement below captures their reaction?
A) "Damn, it's only nonvintage yellow label, which hardly keeps from one Christmas to the next. Oh, and the bloody thing is corked!"
B) "It was fantastic… it had a very sweet taste, you could taste oak and it had a very strong tobacco smell. And there were very small bubbles."
Well, if you guessed (B) then you are right! I personally hate it when the oak doesn't integrate after 220 years though.
In shades of Rodenstockian abundance, a Reuters story says that the diver does not yet know the number of bottles in the cache. The same story quotes Champagne expert Richard Juhlin saying that he thinks it is late-18th century, from the Clicquot house, and valued at about $68,000 a bottle.
Related: "Cristal at 20,000 leagues under the sea"