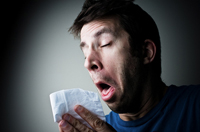 As pollen showers down this time of year, a question that many allergy sufferers may have is whether alcohol exacerbates sniffling and sneezing. The answer is yes, but not necessarily for reasons they may think.
Last week, the Times ran a short piece assessing the claim "alcohol worsens allergies." Their conclusion was yes, particularly for women.
But the problem is not always the alcohol itself. Beer, wine and liquor contain histamine, produced by yeast and bacteria during the fermentation process. Histamine, of course, is the chemical that sets off allergy symptoms. Wine and beer also contain sulfites, another group of compounds known to provoke asthma and other allergy-like symptoms.
I tweeted about it, curious if anyone had any reactions. I heard back from Sumit Bhutani, M.D., a board certified allergist at Allergy & Asthma Associates in Houston and wine enthusiast (and site reader!). In follow-up emails, he took issue with the treatment in the Times piece for lumping all nasal symptoms as allergies, whether they are or not, and placing undue causality on the histamines and sulfites in wine.
He says that histamines in foods have nothing to do with allergic reactions to those foods, so the amount of histamines in foods is almost never of value to allergists. He sent me a link to this observational study in the Journal of Allergy and Clinical Immunology entitled "No correlation between wine intolerance and histamine content of wine."
As to sulfites causing allergies or asthma, Dr. Bhutani says that sulfites cause respiratory symptoms in the small portion of the population already sensitive to them. For them, most whom already have asthma, the reactions are often severe forms of bronchospastic symptoms and may include anaphylactic reactions (you can assess your sensitivity to sulfites by eating five dried apricots, which often have higher levels of sulfites than a glass of wine.) He included a link to another study that tested the theory of low-sulfite and high-sulfite wines in patients with a reported history of asthmatic sulfite reactions. There was no objective drop in the subjects' breathing test with either wine.
So does the alcohol itself worsen allergies? Dr. Bhutani suggests that when someone's allergies are flared, alcohol can act as a congestant (a direct vasodilator, in his terms; because it is related to blood-alcohol levels, lower-alcohol wines should cause less congestion.). It's similar to the way that people with allergies experience increased symptoms around other irritants such as second-hand smoke or strong scents. But he cautions that these indirect irritants are causes of allergy-like symptoms (called rhinitis), not allergies per se. He says that women are affected by this condition three times more than men.
Pity the wine tasters, critics and amateurs alike, that suffer from allergies who may be compounding their problems by tasting at certain times of the year. But if you don't have allergies, it's not likely the cause of congestion.
Related: "CONTAINS SULFITES: meant to frighten rather than inform"