Sutter Home and white Zinfandel are practically synonymous. The Trinchero brothers of Sutter Home started making the sweet, pink wine from (red) Zinfandel grapes in the mid-1970s. To everyone's astonishment, the wine exploded in popularity and within a few years was selling a million cases a year.
While this story is well-known, at least within the industry, what's less well known is that white Zinfandel had been made before that time. In fact, George West had made a pink wine from Zinfandel near Lodi in the 1860s according to Charles Sullivan in his book Zinfandel: A History of the grape and its Wine. In the 1880s, Charles Wetmore, a journalist and head of the State Viticultural Commission, had suggested that making a rosé from free run juice zinfandel. Even In the 20th century, Sullivan noted that David Bruce made a white zinfandel in the 1960s.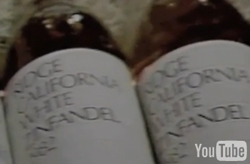 Recently, we caught a glimpse of a white zinfandel from Ridge Vineyards, Yes, the esteemed Ridge, maker of Monte Bello and many excellent Zinfandels!
I wrote to Draper and asked about the curious history of white Zinfandel at Ridge. He was kind enough to elaborate on a topic that probably isn't the first thing he's like to discuss. His comments follow after the jump:
Yes, we did produce a small amount of white zinfandel. It was in 1970, my second year as winemaker at Ridge and Dave Bennion was getting some old vine zinfandel grapes from Lodi. That year, yields were such that on one load color was minimal. There was no hope of making a respectably dark red wine so we destemed and crushed directly to the press.
The first juice was white and made our 1970 zinfandel white. As we pressed the skins some color came out and we made a "rosé".

In those days we were making between two and six barrels a year of white wine from the old chardonnay vines planted in the 1940's at Monte Bello. In 1978, when chardonnay yields were even lower than normal, we made a barrel fermented white zinfandel from York Creek to keep the white wine barrels moist until the next vintage. In the 80's as the old chardonnay vines produced less and less we again made several vintages of white zinfandel for summer quaffing at our outdoor tasting table under the trees. The wine was barrel fermented on its natural yeast and full natural malolactic. Any modest residual sugar was natural, not added. Barrel fermented white zinfandel – this was clearly madness. Quantities were small, however they provided instant cash soon after harvest while the reds weren't offered for two and a half years to four years later.

All went well, though it was a lot of trouble, until I was invited by U.C. Davis to speak on red zinfandel. My part was in the afternoon, but the organizers mentioned that if I got there in the morning the presentations would be on white zinfandel. I decided I'd better go early.

The morning was a revelation. It turned out that white zinfandel was a 'beverage' closely akin to canned ice tea. You took inexpensive valley grapes from whatever varieties, hopefully 51% would be listed as zinfandel on the weight tags. You fermented it dry in huge tanks in a couple of days and pulled any remaining color out with activated carbon, shot 3% sugar into it, sterile filtered and bottled. I gave my speech, returned home and declared we had made our last white zinfandel, mini cash cow or no. It had been as much labor as making chardonnay and as our younger (early 70's) plantings of chardonnay were maturing we put our efforts there.