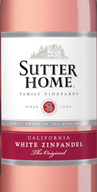 W$Jay was slumming it with zinfandel recently. He had a passing remark about the origin of Sutter Home white zin. Thanks to the Regional Oral history Office at Cal's Bancroft Library, we have access to the first-hand account of Bob Trinchero, then winemaker at Sutter Home.
Trinchero said that there was something of a zinfandel arms race in the early 70s. In 1972, to concentrate the red zinfandel, he bled off 550 gallons of (white) juice at the crush that he then didn't know what to do with. He thought about adding it to his "gallon-jug chablis." But Darrel Corti, a retailer in Sacramento, told him it was a curiosity and that he would buy half of the 220 cases if Trinchero bottled it separately. Corti suggested the name "Oeil de Perdrix," or "eye of the partridge." Trinchero said "Oh, okay. I can't pronounce it, but anyway I make up the label and send it in to BATF." The regulatory authority said that the label needed an english translation, so Trinchero says he added white zinfandel and the BATF accepted the term even though there is no white zinfandel grape.
Of course, white zinfandel had been made as long ago as the 1860s, and David Bruce and Ridge Vineyards, among others, had made saignée wines from zinfandel before Sutter Home.
The first few vintages of Sutter Home's white zin were dry and white. Then it got pink and sweet. How much residual sugar was in the first wine? Trinchero elaborates:
Zero. I was thinking Chardonnay when I was making it. It was dry, oak-aged, and it sold because it was a curiosity. It really started taking off with the '75. What happened was, I had a twelve-hundred gallon tank, and I had only a thousand gallons of White Zinfandel. I had to do something with this two-hundred-gallon head space, because the wine was getting close to stopping fermenting, and you can't leave it with a head space for very long. I had this Mission juice, and I decided I would just put it in there and let it ferment, I put a fermenting bung in it, and it will be fine. Mistake.

First of all, I should have known better, because Mission sometimes just stops fermenting on you for no apparent reason. And I had added a little too much sulfur to this juice, and hadn't allowed it to oxidize to where you could tell what the color was. Up until now it was not only dry, but it was white. Well, this juice looked white, so I pumped it in, tapped it up, and put a fermentation bung in it, and it fermented for a little bit. Then it stopped at about 2 percent residual sugar–the whole twelve hundred gallons–and the color came back to it, so the wine was light pink.

Now I took a sample out and said, "Oh, my God, it's got a pink tinge to it, and it's too sweet." Two percent–that's not really too sweet, but it's sweet to the taste. My first thought was, "What am I going to do now, because my customer is used to the dry, white one." Then I said, "The heck with it. I'm going to bottle it anyway." Well, I had to. I couldn't do anything with four hundred cases; that was too much wine for me at the time.
It took off. By 1980, Trinchero says Sutter Home made 34,000 cases of wine, 24,000 was white zin. Then it went to 60,000 cases then 120,000 cases. By 1985, he says they were selling 1.5 million cases; by 1990, they hit three million cases.
Louis (Bob) Trinchero, "California Zinfandels, a Success Story," an oral history conducted in 1991 by Carole Hicke, Regional Oral History Office, The Bancroft Library, University of California, Berkeley, 1992.