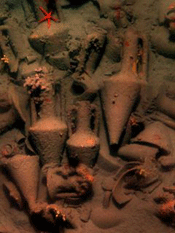 Roederer, the Champagne house that makes the bling Cristal as well as an excellent nonvintage champers, has announced that they will be testing out a new location for bottle aging: under the sea. To the tape:
Roederer said on Monday it had placed several dozen bottles 15 meters (50 feet) underwater in the bay of Mont Saint-Michel, a rocky tidal island off the coast of Normandy, last weekend. A cellarman came up with the idea after realizing that the water temperature in the bay, a constant 10 degrees Celsius (50F), was ideal for aging wine.
But if cork lets in scant amounts of oxygen in a normal cellar, might undersea aging turn the champagne a tad briney? They will stage a tasting in a year to find out how it's going. Assuming, that is, that lobsters haven't opened an undersea night club where the cases are stored.