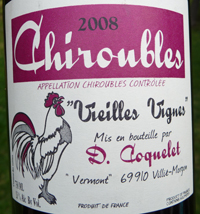 After surveying several dozen choices last night in my basement last night–too cool an evening for a rosé, never enough Pinot around–I settled on the 2008 D. Coquelet, "vieilles vignes" from the often-overlooked appellation of Chiroubles. Still in his twenties, Damien Coquelet is both the stepson of Georges Descombes, the Morgon vigneron, and a rising star of Beaujolais.
I chose the wine because I wanted a good wine with dinner. I did harbor a hope that my wife and I could enjoy it over two nights, thus extending what I hoped would be a good bottle. But something happened: it was so delicious, we drank it all!
Somehow, the best bottles always seem to disappear quickly. Put out a bunch of wines, invite friends over for dinner, and (all things being equal) the bottle most quickly emptied is likely the best that evening.
That made me wonder if this might be the best way for wine drinkers to rate wines, where the highest praise is a rating of "quickly emptied." The rest of the scale might look like this: empty, half-empty, sipped…and spit.
Sure, it's kind of goofy, not very precise and has some obvious flaws, such as discounting future improvements of the wine. It's very here and now and unabashedly so. But it is a great tonic to what ails the point system, which aims for precision and objectivity but often lands wide of the mark. In his memoir, A Life Uncorked, Hugh Johnson wrote, "The weakness of [the 100-point system] is that it is based on tasting, rather than drinking." Indeed.
A rating system for wine drinkers instead of merely wine tasters reshuffles the deck: suddenly, being an utterly drinkable Riesling or Beaujolais becomes a trump card, rather than the hindrance it can be in a blind tasting lineup. Moreover, it limits the number of wines that can reasonably be reviewed to a hundred or more a year–really, how many people need thousands of wine recommendations? Also, it brings context in to the evaluation: the food, the seasonal appropriateness, where the wine is in its evolution, if you're drinking it on a vacation. With the wine drinker's ratings, the best wines become memories in a scrapbook, rather than trophies traded at auction in Hong Kong.
Anyway, it's not perfect. But it's worth discussing. And maybe even worth raising a glass to!