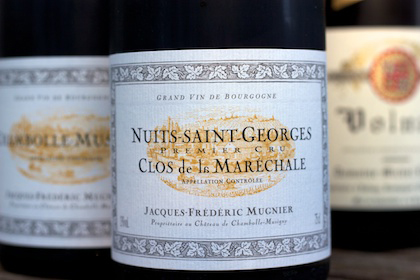 The best bottles are the quickest emptied. But you knew that.
Last week, I made my wife a birthday dinner. But before I started covering the kitchen counter and, inadvertently, the floor and my clothes with flour to make fresh pasta, I popped open a bottle of slightly chilled Mugnier Clos de la Marechale 2007. By the time we got to the table, I was dismayed to find most of the wine had evaporated!
The 2007 Clos de la Marechale is drinking very well now. I had the good fortune of tasting the 08 and the 09 this week too at a trade tasting. While the 07 is the least heralded of these vintages, it is certainly not one to overlook with delicious balance of fruit, acidity and tannin. The '08 has more red berry notes, acidity, tannin, balance and gorgeous oomph that bodes well for a long cellar life. The '09 has more dark fruit character, slightly more ripeness and roundness and elegant concentration, with a spice note that culminates an a faint whiff of pepper. All bear the signature of Frédérique Mugnier for the "bargain" price of under $100. (Find these wines)
Peter Wasserman, who works to export the wines, told me that "Freddy" Mugnier, the winemaker and a former petrochemical engineer, has undertaken a geological survey of the vineyard this year. While the wine making remains very hands-off, for the first time, he will be harvesting the grapes from similar soils and making the wines by those parcels instead of by vine age (45 – 70 years old). All the vats will still be blended in to the 2011 Clos de la Marechale.