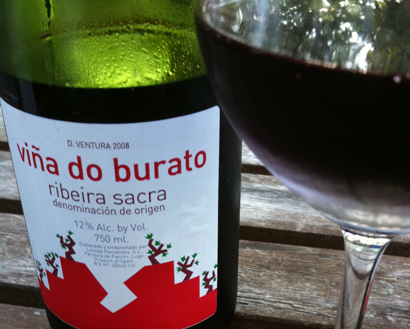 I keep meaning to do a comparative tasting of wines made from the mencia grape. But every time I get a bottle, I drink it!
Case in point: D. Ventura's Vina do Burato, 2008 (about $19). Weighing in at a spare 12% alcohol, this is a great summer red, perfect for chilling and serving dining outside. It's reminiscent of a cru Beaujolais, although a tad darker in color, but with that same lively acidity, bright fruit and scoring highly on the drinkability scale.
Last year, Eric Asimov of the NYT explored the winemaking renaissance in Ribeira Sacra, the vertiginous region in northwestern Spain where this wine came from (check out the story and the gorgeous photos that make you want to book your tickets there right now). The maker of this wine is Ramón Losada, a full-time veterinarian descended from generations who have toiled the terraces in the region to make wine. He told Asimov "I make money on the wine, but not enough to live on, which gives me the freedom to make wine however I want. Some urge me to change, but I won't." Excellent!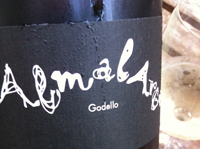 Thanks to a tip from Chris Barnes at Chambers Street Wines, I tried a bottle of Godello from the region too. The Almalarga 2008 from Pena Das Donas ($22) was also low in alcohol (12.5% on the label). It was a Goldilocks wine–not too hot/cold, big/small, comfy/not comfy–it was, "just right." The 80-year-old vines produce a wine with pleasant acidity and some stoniness of a Chablis and good richness thanks to aging on the lees. The only things holding this silky, drinkable wine back from white wine world domination are the presumably limited quantity of production and the slightly high price.