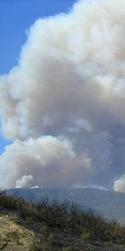 I had heard about the fires in Sonoma 2008. But I had never tasted them.
David Hirsch poured me a sample of his 2008 "The Bohans-Dillon" pinot noir at the recent trade tasting of his New York distributor. And guess what: it had a smoky notes swirling around the dark cherry fruit. If you like chipotle or a peaty whisky, and you like California pinot, I predict you will love this wine! (The smoky taste can come in non-blaze years from the "toast" level of barrels.) If you don't but want to keep it in the Hirsch Vineyards portfolio, then perhaps try one of the 07s, such as the pricier "M," which is smoke free.
Describing that hot summer when the fires came in July, Hirsch said that "we almost died of asphyxiation." He added that people like to "drink pinot and talk terroir." Well, he said, this was the terroir of 2008. By contrast, he said that 2007 was "a blessing."
Here on the blog, we previously discussed geologists who debunked "minerality" as coming from the soil. But this smokiness in the glass appears to have come from the fires! Putting the "air" in terroir, one might say.
For more on smoke and de-smokifying wines, check out this story in the SF Chron or this one at Forbes.com.