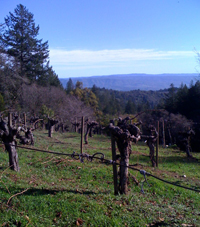 Evan Dawson, who writes about Finger Lakes wines for the New York Cork Report (and who we last saw here), recently tweeted that he was in Napa. I asked him if he wanted to contribute a post from his travels and he suggested his stop at Mayacamas Vineyards. Today we have his thoughts. Tomorrow, John Gilman offers his tasting notes on several decades' of Mayacamas wines.
By Evan Dawson
Whither Napa Cabernet? The economy dealt a blow to the iconic American wine as consumers started reaching for less expensive bottles. Now, a growing number of critics and consumers, including those in California, are openly wondering if the Napa Cabernet train has come off the rails: commentator Dan Berger, for one, last week dismissed California Cabernet as "little more than a parody of itself."
High up the side of Mount Veeder one sunny but cool, midwinter morning a couple of weeks ago, I couldn't help wondering if the way back might offer ideas for Napa's way forward. After all, the Cabernets of the 1970s helped put Napa on the world wine map, so it seemed reasonable to wonder if in wine, as in fashion, the past could provide inspiration.
To find one answer to this question, I had ventured to the Maycamas Vineyards. Celebrated in the 1970s as a leading producer of Cabernet, I was curious if the once-hot style would seem as out of place as bell bottoms or as appealing as Mad Men. After all, not much had changed there.
Unlike most of their competitors, Mayacamas doesn't go out of their way to attract visitors. There is no tasting room on one of Napa's two main thoroughfares. My appointment confirmation included instructions to drive to the top of Mount Veeder, find the cluster of 13 mailboxes, and turn up the dirt road. That's it. While Rubicon Estate rolls out a literal red carpet for visitors, Mayacamas makes it a scavenger hunt.
But Bob Travers, the 70-year old owner and winemaker, is not there simply to tell stories of Napa's halcyon days, nor has he sought to create a numinous landmark to excite traditionalists. In fact, it appears that Travers hasn't altered a thing since taking over the property in 1968.
"This is the most enjoyable thing I can think of doing," he told us with a smile as he joined us in the small visitor's building.. "Maybe Napa has changed over the years. But we have not."
It's an admirable sentiment in a region that has seen a flood of high-wattage consultants and high-alcohol wines. "I enjoy those big Cabernets," Travers said, and then with a wink he added, "for a sip or two. They make me tired. I don't find myself wanting to drink another glass. I don't think they go well with food. And I don't think they age very well, either."
The Mayacamas barrel room is designed for utility, not photo shoots. While many Napa barrel rooms are temples of modern cooperage, the storage at Mayacamas seems complacently disheveled. No two barrels look alike; even the barriques are different colors. Travers proudly announced that he "uses two percent new oak each year." An employee urged us to touch the walls, which were covered in black mold. "They're like velvet!" she said. "Isn't that cool?"
Given the state of the barrel room and the approach of the winemaker, some cynics might assume they'd find Brett in the wines – or, at least, those nefarious and nebulous "green flavors." This is, after all, a mountain winery using mountain fruit. The valley floor sees hotter mesoclimates and more concentrated grapes but the mountains provide cooler weather and, if harvest dates are the same, lower sugars in the grapes. Hell, Travers even owns a snow shovel.
But the assumptions of flawed wines are wrong. Back in the tasting room, we tasted the current release (2004) and a library release (1996). The 2004 was introverted but elegant. The '96 was gorgeous, showing a loamy black cherry that evoked a Brunello from Biondi-Santi, as well as menthol and grilled herbs. It checked in with an anachronistic 12.5% alcohol by volume, and its lithe profile hints at a wine that might evolve impressively for years to come.
Travers always offers a library wine for visitors to taste. "We can't just pour the current wine because no one would know what they're getting," he explained. Unlike other Napa producers who have had to slash prices (some from triple to double digits), Mayacamas Cabernet has seen a very gradual price increase over the years. The current release sells for $65, right in the middle of the Napa Cabernet pack but miles below the lofty prices staked on bigger, brawnier wines. On average the price for Mayacamas Cabernet rises about $1 per year, which the staff calls "comfortable." The library release sells for about twice that price, but visitors can buy half-bottles, which have the dual benefit of keeping the cost down while providing the wine in a vessel that promotes slightly faster aging. Travers has never found an occasion to crank up the price and he clearly doubts the business practice of charging triple-digits for wines that might fall apart after only a few years. "We've never made wines to drink young. It's not always the best business plan, but we make wine to reward patience. This is how it was in 1968, and this is how it ought to be today." He heavily disputes the notion that in Napa, Cabernet can't ripen physiologically unless it essentially withers into a raisin on the vine, one grape-growing technique that can lead to the higher-alcohol style prevalent today.
Eventually someone else will take over the winemaking at Mayacamas, and they'll have to decide whether to increase the 4,000-case production. The staff at Mayacamas admits that during an economic downturn, smaller producers might have an edge. Mayacamas enjoys a small but devoted following, and as the trend has begun to turn away from monstrously large wines, more tourists have been seeking appointments and tours on top of Mount Veeder. (The tour and tasting are free – another throwback practice in the valley. "If you can make it up the mountain, you shouldn't have to pay extra to walk around," an employee explained.)
Travers only plans to keep making elegant Cabernet for the foreseeable future, but a succession plan might already be in place. Two of Travers' sons are "highly involved" in the business, and a relative is his assistant winemaker. It's an indication to customers that whether Travers works for another three or thirty years, the style is unlikely to change.
The critics, perhaps seduced by high-alcohol, high-octane Cabernets, don't seem to understand Travers' stubborn adherence to tradition. Last summer, Wine Spectator's Jim Laube tasted a 1974 Mayacamas Cabernet and raved about its depth and balance. He awarded the wine 95 points, then wrote, "I'm not sure why Mayacamas Cabernets after 1978 never achieved the same level of quality, since they come from the same vineyard and most of the same winemaking techniques are still employed." But since Travers says the winemaking didn't change, then perhaps Laube's preferences have.
That's okay with Bob Travers, who no longer submits wines for review. The community of reviewers on CellarTracker seem to appreciate Mayacamas wines more than professionals; Mayacamas Cabernets routinely average higher than 90 points on the site.
So perhaps wines like Mayacamas Cabernet are indeed the bell bottoms of the wine world: out of style with most, longing to make a comeback. But Bob Travers would prefer to think of his wines less like the faddish bell bottoms and more like blue jeans: Consistent, not flashy, built to last. It's the style that never fell out of fashion on top of Mount Veeder, and it might be the style that will allow more producers to bring stability back to the valley.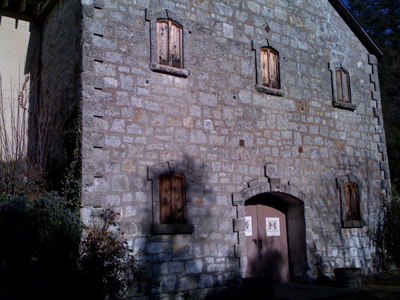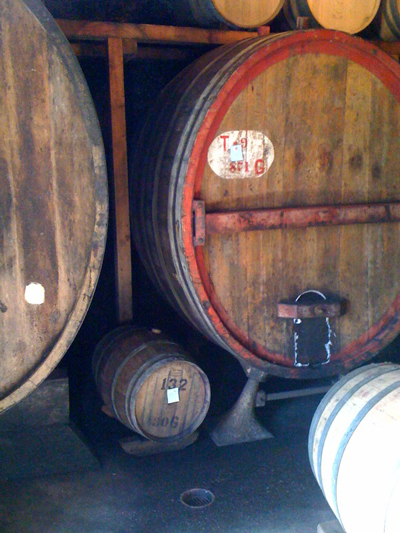 Photos by Evan Dawson