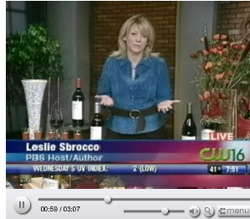 SIPPED: the hard question; SPIT: advertorial
During what looked like an innocuous segment on Thanksgiving wines, Evan Dawson, a local TV news anchor, asks Leslie Sbrocco, wine book author and TV host, some tough questions. And they're not about the turkey. Tune in to about 1:50 when he asks her about the Beringer wines she recommends: "Do you have a relationship with them that involves any sort of compensation?" Her reply: "Yes, this media tour is with the Beringer portfolio of wines." The FTC would be proud of Dawson! [13WHAM]
SPIT: double standards
Speaking of the FTC, Blake Gray, former wine columnist for the SF Chronicle, has a lengthy post decrying the fact that the new FTC regulations come down harder on blogs than they do traditional media. [Gray Market Report]
SIPPED: funding freer trade
Frustrated by interstate shipping laws that thwart the ability to purchase wine out of state for 47 states? Consider bidding on wine lots in an auction to benefit the Specialty Wine Retailers Association, which fights legal battles for freer trade.
SIPPED: red wine
Chocolate milk, of all drinks, tries to muscle red wine out of the health news headlines: According to recent research as reported in the NYT, "flavanoid-rich cocoa" found in chocolate milk appears more effective at reducing inflammation that leads to atherosclerosis than regular milk! But the effects still aren't as pronounced as with red wine. I can see it now: the choco-cabernet smoothie!
SIPPED: symbolic pricing
Joe Montana's 500 acre estate that spans the Sonoma-Napa county line, is up for sale. The former 49ers QB, who also has a wine label, listed the property at $49 million. [WSJ]
SPIT: symbolic pricing
7-Eleven, the chain of 15,000 convenience stores, has announced their own wine label, Yosemite Road. Instead of pricing it at $7 and $11 a bottle for symbolic purposes, it will retail for $3.99. Aha! Maybe this will be the home of the choco-cabernet Slurpee? [AP]
SIPPED: another city winery
Hong Kong eclipsed New York City as the wine auction capital of the world this year, that we know. But this just in: Hong Kong has had a winery in the city limits since 2007. [CNN]
SIPPED: web voting
The website Foodbuzz recently distributed some blog awards and this blog won the category "blogger you would most want to be your personal sommelier." Thank you for your votes but my question is, true to blogger stereotype, does that mean I have to pour wine in my pajamas? [Foodbuzz]