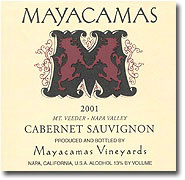 John Gilman, author of the newsletter A View from the Cellar, weighs in today with his thoughts on Mayacamas Vineyards. There is some duplication with Evan Dawson's travel post from yesterday but there is also much new, including John's tasting notes from Mayacamas Cabernet 2003, 1991, 1985, 1974, & 1968. Let's turn the floor over to John for his views from the cellar…
Mayacamas Vineyards is one of the greatest cabernet sauvignon producers in the history of California. While so many of its contemporaries who once shared the spotlight with Mayacamas have succumbed to the tides of fashion, Mayacamas continues to proudly maintain its heritage of producing long-lived, structured and classic mountain cabernets that seemingly offer little to a modern wine world scarred with impatience and the child-like need for immediate gratification. But for those who long for great red wines that cellar with conviction and evolve in the course of time into brilliantly complex and compelling wines, Mayacamas remains one of the brightest stars in the constellation of California wine It is arguably the last man standing from the glory days of California's past, when pioneering spirits sowed these fields from which so many subsequent producers have reaped the bounty. The great irony is that while Mayacamas Vineyards has faithfully stayed the course first fashioned by Bob and Elinor Travers soon after their purchase of this historically important estate in 1968, the world of wine has seen its attention span lessen, and the great quality of the cabernet sauvignon at Mayacamas has gone from the center of the California wine universe to one of the best-kept and little discussed secrets buried in the mountain vineyards that tower above the Napa Valley.
Located high up on Mount Veeder, Mayacamas Vineyards has been in the hands of Bob Travers since early 1968, when he and his wife Elinor turned their backs on careers in finance in San Francisco and moved north. Since the first Travers' era release, the 1968 cabernet sauvignon, the winery was recognized as one of the greatest cab producers in the state. When Englishman Steven Spurrier canvassed California looking for top examples from the state to include in a blind tasting of top French wines versus Californian wines for a 1976 tasting for his Parisian wine shop, the 1970 Mayacamas cabernet was the one wine that he really wanted to include in the lineup, but which had already been sold out at the winery. As Bob Travers relates of that time, "I still had a few cases of the 1970 set aside for my own cellar, and if I had known then how important the Spurrier tasting would become over time, I might have been inclined to pull a couple of bottles out of my cellar for Steven for the tasting." But instead, three bottles of the closed and still unreleased at that time, 1971 Mayacamas cabernet went off to Paris, where the wine placed lower down in the pack, due to its very structured and reticent style at that point in its evolution. Interestingly, in remakes of the Spurrier Tasting of 1976 conducted on its twenty-fifth anniversary in 2001, the now fully-blossomed 1971 Mayacamas cabernet placed first amongst the reds from either side of the Atlantic.
Today, Mayacamas Vineyards does not possess the same high wattage name recognition of cabernet producers such as Harlan Estate, Colgin or Screaming Eagle, but to my mind it remains unequivocally California's greatest cabernet sauvignon producer, with very little remaining competition amongst California wineries for producing long-lived, ageworthy and structured wines that evolve for many decades and improve immeasurably with extended bottle age. Simply put, Mayacamas is the only First Growth caliber cabernet still produced in California, and the only wine that one can reliably tuck away in the cellar and know that twenty or forty years down the road, the wine will have developed brilliantly. To give some idea of its longevity (and I now have tasted almost all of the top vintages of Mayacamas cabernets between the 1968 and 2003 vintages over the course of the last few years), even the inaugural vintage of 1968 continues to drink beautifully, and wines such as the 1973, 1974, 1975 and 1978 still have decades of life still ahead of them. As Bob Travers recalls, "since day one, my inspiration was the wines that I knew best from France prior to my arrival in Napa, with Bordeaux wines such as Château Latour always the wines that I sought to emulate- wines that were not made for the cellar and were not crafted to blossom over the long haul simply were not that interesting to me, and I had little desire to try to make wines in any other style than that of the wines like Latour that were always my favorites to drink."
Tasting several vintages emphatically demonstrates the slight early herbaceousness of Mayacamas cabernets, which gives way in the fullness of time, with these early herbal tones of bell pepper and green peppercorn evolving into notes of tobacco leaf, earth and often a very distinct note of chipotle pepper that I also find in many mature vintages of La Mission Haut Brion. In fact, Mayacamas cabernet at its peak often delivers an aromatic and flavor profile that shares many elements with La Mission or other top Graves properties, coupled to a deep core of sweet black cherry fruit that could only hail from California. Needless to say, it is a rather impressive and exciting mélange of flavors and aromas.
The secret to Mayacamas' contemporary cabernet dominance over its neighbors in California was once no secret at all, as Bob Travers continues to make wines exactly as he has done since his very first vintage, and which he recalls "was the way everyone made cabernet here in Napa when I was first starting out." Prior to buying Mayacamas Vineyards in 1968, Bob spent the year of 1967 working alongside Joe Heitz at Heitz Cellars, and he credits Joe Heitz with much of his winemaking skills, though he is quick to point out that other seminal California winemakers at the time, including Louis Martini and André Tchelistcheff were also very free with their advice and were great influences on the Mayacamas style. The winemaking style here is quite old world in its methodology, with the yields in the vineyards kept quite low to allow the grapes to ripen without allowing the sugar levels to soar, so that Mayacamas cabernets retain some of the finest natural acidity of any red wines in California and rarely weigh in over thirteen percent natural alcohol. As Bob Travers ventures to say, "all that talk of physiological ripeness these days with cabernet is simply an excuse to try and get huge crop loads to ripen sufficiently, as cabernet is always going to taste really green at those yields unless you let the grapes hang out there until they are nearly raisins." But if the yields are kept low, then one can get good phenolic ripeness in the grapes without having to produce a wine at ridiculously high alcohol levels of over fifteen percent.
Once the grapes arrive at the Mayacamas cellars, the goal of making a long-lived wine continues with winemaking practices that are quite different from what is routinely practiced at most other cabernet-producing wineries these days. It is not only in the realm of viticultural philosophy that Bob Travers and his beloved Mayacamas Vineyards fly in the face of today's conventional wisdom, as his cellar techniques would be anathema to ninety-five percent (or perhaps more) of all winemakers on the gold coast these days, though ironically, they sound very much akin to what is practiced by many of Europe's greatest red wine producers. For his cabernet sauvignon, he utilizes whole berry fermentation for the initial seven to fourteen days (depending on the quality of the stems), followed by crushing and destemming. The wine undergoes alcoholic fermentation in cement tanks, and is then aged initially in large, one thousand gallon old oak foudres for eighteen months. After this period the wine is racked into sixty gallon French oak barrels (less than twenty percent of which are new in any given vintage) for a bit more barrel aging of six to twelve months, depending on the needs of the wine. The Mayacamas cabernets are then bottled without fining, and aged an additional two years in bottle prior to release. In many regards, Mr. Travers' vinification techniques and elevage regimen sounds much more akin to those of a great Piemonte producer such as Bruno Giacosa or Bartolo Mascarello than it does to any of the technical cellar wizardry propounded by most California winemakers today.
But it does not take a genius to decide whether or not the Mayacamas approach to cabernet is successful, as with sufficient bottle age, these magical cabernet sauvignons simply tower over most of their contemporaries. At a recent tasting of the highly-reputed 1991 California cabernets, which I will be writing about in an upcoming issue of my newsletter, the '91 Mayacamas was the youngest of all the wines in the tasting, and was still climbing up in search of its magical apogee, while many of the other highly-touted 1991s were already getting long in the tooth and starting to show overt signs of oxidation and imminent decline. Interestingly, Mayacamas Vineyards today generally has a reputation outside of the realm of cabernet insiders of once having been great, but having lost their way after the decade of the 1970s, with conventional wisdom being that the cabernets today from Mr. Travers are not in the same league as they once were in their glory days. However, nothing could be further from the truth, as the new vintages of Mayacamas cabernet are every bit as good as their legendary wines made in the 1970s, and in reality, the newer vintages will probably prove over the fullness of time to be even a tad superior in terms of elegance and refinement than their early descendants, as they are made from more mature vineyards than was the case with the wines of the 1970s. But the key to understanding Mayacamas cabernets is to allow the wines to receive the bottle age that they both deserve and demand, as a top vintage of Mayacamas needs at least twenty years of cellaring to really begin to blossom and show of all of its magical depth and complexity. While other top cabernet producers in California, such as Ridge Monte Bello and Château Montelena also continue to make classic, age-worthy wines that evolve beautifully with long-term cellaring, it has been my experience that neither estate can quite match the depth, complexity and breed exhibited by the vast majority of vintages of Mayacamas cabernet at age twenty-five or thirty.
As Bob Travers observes, "we have always aspired to make long-lived wines, and if a wine takes fifteen or twenty years to reach its peak, then that is just fine with me," as "I am perfectly happy to be patient as long as the wine turns out to be worth waiting for." However, such philosophy is not shared by the vast majority of cabernet producers in California today, nor many of the influential critics who form a key constituency for most wineries in this day and age. The general trend is to make riper, more alcoholic and more simple wines that show best right at the outset, gussied up with high percentages of new oak, with the potential for graceful evolution in the bottle blithely traded for early accessibility and more obvious profiles that garner higher scores from easily impressed and really rather unsavvy critics. That this style of wine generally has a ridiculously short shelf life for cabernet sauvignon- one of the longest-lived red wine varietals- seems to be immaterial to most winery owners and cabernet advocates, who are happy to see these fat and happy cabernets rolled out a few years after the vintage and consumed while still in their simple, pumped up and boringly monolithic youths. Fortunately for those who still want cabernets that age with the grace and complexity of the wines from California's golden age- the decade of the 1970s, where not coincidentally, the state's reputation as a world class wine region was justifiably earned–Bob Travers and Mayacamas Vineyards remain standing on the pinnacle of Mount Veeder, overlooking a dramatically altered landscape below in Napa Valley, but still quietly acting as guardians of California's historical legacy of great cabernet sauvignon.
2003 Mayacamas Vineyards Cabernet Sauvignon (about $65; find this wine)
The soon to be released 2003 cabernet from Mayacamas shows a bit more ripeness and generosity than is customary with this great wine (weighing in at a full thirteen percent alcohol, rather than the optimal 12.5%), but also delivers all of the structural integrity that makes this California's greatest red wine. The bouquet on the 2003 is almost exuberant today, as it offers up notes of black cherries, sweet cassis, tarry tones, tobacco leaf, a great base of stony mountain soil, lead pencil and the faintest whiff of cedar. On the palate the wine is classically deep, full-bodied and structured, with a rock solid core of sweet black fruit, bracing acidity, firm, chewy tannins and outstanding length and grip on the very, very long, primary and oh, so serious finish. Tasting this wine takes me back to the excitement I had tasting the newly released 1986 Bordeaux vintage, as this wine very much resembles structurally the very best of those wines. Simply a great wine in the making, and perhaps a Mayacamas cabernet vintage that will drink brilliantly at fifteen years of age, rather than the customary thirty. Get in line now, as this is a wine that one does not want to miss. 2015-2050. 94
1991 Mayacamas Vineyards Cabernet Sauvignon
The 1991 Mayacamas cabernet is really beginning to blossom at sixteen years of age and offers up another very Graves-like personality on both the nose and palate. The bouquet is deep and lovely, as it offers up a complex mélange of tobacco leaf, black cherries, cassis, hot stones, herbs and a fine base of complex soil tones. On the palate the wine is full-bodied, firm and tangy, with a fine core of sweet fruit, great focus and balance and a very long, classy and moderately tannic finish. The 1991 is already a lovely drink with some decanting time, but given how great Mayacamas cabernets become with twenty-five odd years of bottle age, I would still be strongly inclined to hold off on drinking this fine 1991 for another eight to ten years. Not that it is a bad drink today, but there are very clearly plenty more layers of complexity, not to mention more generosity, that will emerge with further bottle age. A superb vintage for Mayacamas. 2017-2050. 93+
1985 Mayacamas Vineyards Cabernet Sauvignon
I vividly remember the hype surrounding the quality of the 1985 cabernets, and I studiously tucked away a myriad of the most highly recommended examples of the vintage in my cellar when these wines were on the market. Funny how, what clearly appears to be one of the best, if not the very finest cabernet of the vintage was not on everyone's short list of must have wines back in 1987, but Mayacamas' star had already begun to wane amongst the fashionable cabernet cognoscenti by the late 1980s. This was clearly too bad for my own cellar, for many of the most highly acclaimed 1985 cabs have decidedly not panned out, the '85 Mayacamas is a brilliant bottle of wine that emphatically demonstrates what all the vintage fuss was about in the first place. The nose is deep and brilliant, as it soars from the glass in a complex blaze of black cherries, cassis, road tar, tobacco, a bit of green peppercorn and a complex base of mountain soil tones. On the palate the wine is full-bodied, deep, very pure and soil-driven, with a stunning core of sweet, black fruit, laser-like focus, impeccable balance and a nearly endless, still moderately tannic finish that closes with stunning depth and grip. Again, this is eminently drinkable today, but the best is yet to come. 2020-2060. 95+
1974 Mayacamas Vineyards Cabernet Sauvignon
What a run of vintages California had in the decade of the 1970s, and how fortunate we all are that Mayacamas was in the hands of Bob Travers and at the top of its game during this remarkable decade of munificence. When all is said and done, the 1974 will probably be considered the finest wine ever produced at this legendary winery, and the wine is now entering into its brilliant apogee of peak drinkability. The bouquet offers up a celestial blend of black cherries, allspice, tobacco, very complex, Graves-like soil tones, dark chocolate, smoke and a touch of roses in the upper register. On the palate the wine is deep, full-bodied, very sweet at the bottomless core and utterly refined, with melting tannins, lovely framing acidity and great length and grip on the thundering and brilliantly complex finish. A stupendous wine with decades of magical drinking still ahead of it. 2007-2040. 98
1968 Mayacamas Vineyards Cabernet Sauvignon
The 1968 Mayacamas was the first vintage ever made by the Travers family, and it is a remarkable wine by any stretch of the imagination, and is simply challenges credulity as a first effort! The beautiful, fully mature nose offers up a sweet mélange of red and black cherries, fresh nutmeg, sweet Cuban tobacco, again, Graves-like soil tones, and even a hint of brick dust in the upper register. On the palate the wine is full-bodied, plush and wide open, with lovely focus and balance, still sound acids, but little sign of remaining tannin and an almost gentle, caressing core of fruit by Mayacamas normally firm standards. The finish is very long, graceful and complex, but the wine has been fully mature for many years and is probably now nearing the end of its plateau of maturity. I would opt for drinking it over the next decade if I had any bottles in the cellar, but it would not shock me to still see this wine cruising along longer than that, as it is beautifully balanced. 2007-2017? 93
For more from John Gilman, check out his newsletter A View from the Cellar.