Georg Riedel, 10th generation Austrian glass-blower, invented the delicate crystal glass designed for each grape variety.
Many wine lovers around the world have cabinets stuffed with complete sets by each varietal. But Riedel continues unabated, subdividing grapes with his just released Oregon pinot noir glass–mere grape no longer suffices as now terroir is overlaid on grape. The logically possible amount of stemware just increased exponentially.
Daniel Zwerdling burst into the wine world like a bull in a decanter shop. His story, "Shattered Myths," in Gourmet (August 2004 and very, very unfortunately not available online), asserted that Georg was pulling the wool over discerning drinkers eyes: the reason wine in Riedel stems tastes better is not because of a tongue map–it simply tastes better because we believe it should.
So, as we contemplate adding more crystal to our collections and to give as gifts this holiday season, have your say in the latest poll!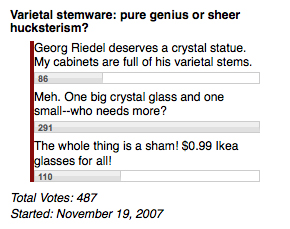 poll now closed