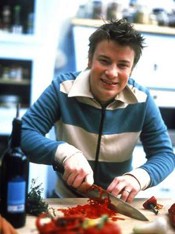 SIPPED: English wine
Well, now that all the serious business of the G20 meeting is over, we can turn to what wine lovers wanted to know all along: what did they drink? Gone were the lavish dishes of last year's G8 summit. Jamie Oliver, chef for the dinner at Downing Street, put together a menu showcasing the "best of British cuisine," which was expected to include Nyetimber, a sparkling wine from West Sussex. (The spouses' table seemed like the most laughs that evening–Joachim Sauer excepted.) [timesonline.co.uk]
SIPPED: a shot glass of sanity?
Chateau Angelus is the first of the top Bordeaux properties to release their 2008 vintage: 50 euros a bottle, or 40% less than the 2007, which was not a strong vintage in the region. Our previous discussion highlighted how mush pricing is relative and based on perception, rather than actual costs. And Simon Staples is back again, quoted as saying that he wouldn't even be a buyer of Angelus at 30 euros. [Decanter]
SIPPED: wine in the USA
While worldwide wine consumption fell by one percent, Americans tacked on a 1.8% gain in wine last year, the fifteenth consecutive annual gain according to the new edition of Impact Databank.
SPIT: cakes!
On March 23, we laid out the Layer Cake/Cupcake confusion/silly naming. March 26, Layer Cake's producer (One True Vine) sues the Cupcake producer (The Wine Group) for trademark infringement claiming the name is "confusingly similar." [Wines & Vines]
SWIRLED IN CONTEMPLATION: Australia
Australian wine "has moved from being revered to being reviled" with tremendous speed, writes Jancis Robinson at FT.com. She asserts this is largely because of the success of "ubiquitous and vapid" low end wines and the high alcohol wines that receive big scores from the Wine Advocate. Then add a glut followed by a drought and fires, industry consolidation and a global recession and it's not difficult to see why the sledding has gotten a little rough. I'm quite interested in the story of Australia, particularly the one that is not much exported to the US. That's why I'll be joining a group wine writers and sommeliers there in June for the Landmark Australia tasting.