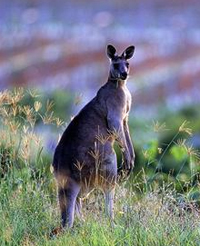 Over the past couple of decades, Australian wine has seen two tremendous, parallel booms, one at the low end and one at the high end. But now the industry is now suffering through a bust, particularly acute at the higher end.
This epic tale has received attention from other wine journalists recently including Jay Miller's February article in the Wine Advocate ("Australia: Into the Abyss"), Jancis Robinson in the FT ("How Australia went down under"), and Mike Steinberger in Slate (whose memorable line was "Foster's may be Australian for beer (mate); it appears that screwed is now Australian for wine.").
While all three pieces acknowledged that Australian wines have suffered a sharp reversal of fortune over the past year, they varied somewhat in the cause of the collapse. Miller ascribed it to the rise of look-alike wines. Robinson saw they UK supermarket buyers playing the big Australian wine corporations off of one another turning it into a "duel by discount" and that "Australian wine became synonymous with cheap wine." Steinberger noted some retailers having difficulties selling the expensive shiraz that is all too often high in alcohol, overoaked, from grapes harvested at the extremes of ripeness. He elaborated on the causality: "It is a rendering of shiraz that Robert Parker happens to adore, and the huge scores that his publication, the Wine Advocate, awarded many of the wines made them wildly popular, which encouraged producers to pump out more and more of these purple people-eaters (the ever-decorous Australians refer to them as "leg spreaders") and retailers and importers to load up on them."
The case of Australia offers a fascinating example for other countries that seek to enter the global market. If anything the country came to have too little diversity at the top, especially in the American market, and came to be known for the high alcohol, fruit bomb shiraz to the detriment of anything else (a cautionary tale for Argentina and Malbec and New Zealand with Sauvignon Blanc, perhaps). And since most of the fruit bombs deteriorate rather than improve with age, there's no real claim to making a wine that can mature, generally a benchmark of an outstanding wine.
Do the non-fruit bomb wines age? Does Australia have a middle ground between the choose-your-critter supermarket wine and an emperor-has-no-clothes shiraz?
Yes, and apparently they are keeping them to themselves. Consider the experience of comedian Lewis Black. He recently related to wine writer Robert Simonson: "I actually went to Australia, and, you know what? They're cheating! When I was in Australia, it was like "You guys are keeping the good stuff!" You try their wines down there and you say, "Really? THAT'S a Shiraz. Screw you! That is not what you're selling us!" That was an eye-opener."
If it was the best of times just a few years ago, it is now the worst of times. Through pop culture, we all know that Australians have to deal with such horrors as baby-eating dingos and man-wrestling crocodiles. But Australian winemakers have had to confront the serious calamities of drought and bush fires that have ravaged vineyard areas this year. In this light, Australia, a largely arid land to begin with, is also at the forefront of climate change.
I'm in Australia right now and hope to find some of those wines that aren't making it to our shores and more about the story of the rise and recent pullback. Late last year, I was selected from 130 applicants to be one of the dozen participants in an educational conference called Landmark Australia, The Tutorial (see Jancis Robinson's announcement from December and my previous mention). The group of participants is composed of sommeliers and wine writers from ten countries ranging from China to Finland to Germany; half the group is a Master of Wine or a Master Sommelier. The Australian Wine and Brandy Corporation, a government organization, has organized (and paid for) the event. We will spend the next five days in the Barossa Valley tasting through three sessions a day with leading wine makers from throughout Australia including Jeffrey Grosset and Brian Croser among many others. You can see the whole list of seminar leaders here and the complete schedule here as a pdf.
It should be a fun week and I plan to learn a lot. Stay tuned.
photo: Australian Wine and Brandy Corporation