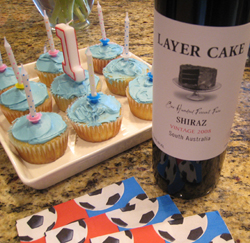 Over the weekend we celebrated the first birthday of the youngest member of our family. We had a few friends over and one of them brought the Layer Cake shiraz from Australia as a birthday wine (find Layer Cake). Appropriately enough, it was from his birth-year vintage of 2008! (I'll have to remember that trick for parents of young children at their kids' birthdays.)
I didn't get a chance to try the inky black, 14.9% alcohol shiraz before the bottle was drained by other guests. But I did ponder for a moment the name, Layer Cake, which is the absolute antithesis of what I would think the wine is all about or what I would pair it with. Apparently, there's also a wine called "Cupcake" that makes cabernet and chardonnay among other dry wines. Frankly, I think these names are headed down the wrong track since cakes may be fun, but they aren't really amenable to wine pairings.
Or wait: are they? Which wine would you pair with cupcakes? Or are they…impossible?