What can we call port-style, fortified wine made here in America? Thanks to your over thirty suggestions, we now have finalists!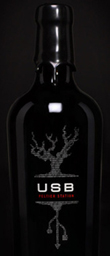 Unfortunately, names with the letters "port" (or "porto") are not legally allowed. I was thinking of suggesting "Corto" since it is a contraction of California Porto (and, in a double entendre, also the venue where producers could be sued as in "see you in corto."). But, alas, intellectual property law takes a dim view on items that have a similar look, sound or meaning (see, for example, Microsoft vs. Lindows even if Microsoft did have to pay in the end). Thanks to winemaker Jeff Stai for pointing out the legal difficulties for making his fortified wine, Pig Stai.
So without further ado, here are the finalists for your voting! And remember, they are playing for a bottle of USB donated by Peltier Station in Lodi, California. They were suggested, in order, by SB7, Benito (Trop is port backwards), Lillac (Treading with bare feet is often used in making the best ports), and Mark Ashley. Voting remains open through Friday!

Loading ...
On a related note, nobody suggested "Turley." But in a California wine shop I visited last week, the owner kept a 1997 Turley zin right next to the 1970 Fonseca.